Performance Motion Devices Product
Juno® Velocity & Torque Control IC Family
Model: MC78113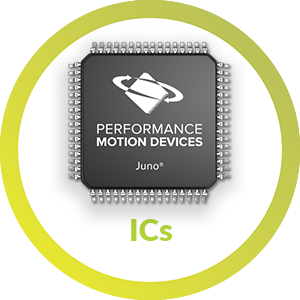 The Juno® family of ICs provide advanced velocity and torque control for Brushless DC, DC Brush, and Step motors. They are the industry's first family of compact ICs with full four-quadrant motion control, direct input quadrature encoder, profile generation, and advanced current control.
Juno ICs are targeted for medical, scientific, industrial, and robotic applications that need to minimize motor noise, vibration, and power consumption. Juno ICs are easy to deploy with embedded motion commands, on board intelligence, and direct analog and digital amplifier signal interfacing.
Performance runs in the family:
Easy Integration
Integrated Safety Features
Flexible Offerings - Velocity or Step
Juno ICs are offered in two major product groups:

Velocity Control ICs: Sophisticated velocity and torque control of 3-phase brushless DC, DC brush, step motors or multi-motor.
Step Motor Control ICs: State of the art step motor control with pulse and direction or SPI command input.
Torque Control ICs: Ultra-precise torque control for 3-phase Brushless DC and DC Brush motors with direct analog or SPI command input.
No matter what your motor control application, there is a Juno IC that will take your application to a higher level.
Other Products from Performance Motion Devices