Performance Motion Devices Product
ION® 500 and 3000 Digital Drives
Model: DD1 Series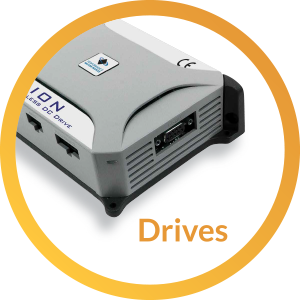 ION® 500 & ION 3000 are standalone digital drives with internal profile generation and position control. They are compact, fully enclosed modules that provide high-performance motion control, network connectivity and power amplification for Brushless DC, DC Brush, and step motors. Two power output levels are available, the ION 500 is rated at 500 Watts and the ION 3000 is rated at 3,000 Watts. IONs are ideal for medical, scientific, semiconductor, robotics, industrial and other automation applications. They perform profile generation, PID servo compensation, direct quadrature encoder input, stall detection, field-oriented control, digital torque control, and many other motion control functions. Host interface options include Ethernet, CANbus, RS-232 and RS-485.
At the core of every ION is a Magellan IC which speaks PMD's common language C-Motion, thereby ensuring compatibility with the entire range of PMD motion control products.
ION Digital Drive Developer Kits are integrated hardware and software packages for exercising PMD ION and ION/CME Digital Drives. Included in the developer kit are an ION or ION/CME Digital Drive and various cables to make it easy to communicate with the ION drive and connect to the motor and associated peripherals. All developer kits come with Pro-Motion, PMD's convenient Windows-based motor setup and optimization software, a complete SDK, manuals, schematics, and software examples.
Other Products from Performance Motion Devices