Motion Index Drives, Inc. Product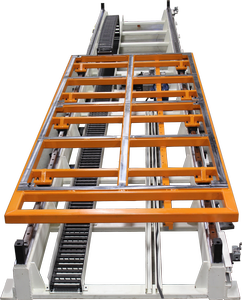 KEY BENEFITS TO TOOL TRAY SHUTTLES – LINEAR TRANSFER SYSTEMS
Standard accuracy – DIN 6 on gear rack +/-0.0003″/ft
Rack is hardened and ground – S.F. of rack 4.58:1
Low backlash Gear Reducer
Total axis load moving over 100,000 lbs
(slide frame and fixture )
Transfer unit is fabricated and machined welded
steel construction
Transfer carriage manufactured to mount customer tooling tray and fixtures
Localized pads machined for mounting of tooling tray
Faster Transfer Times
Extremely high accuracy through the use of either AC motor with absolute encoder or servo motor control.
ADVANTAGES FOR DESIGN ENGINEERS AND SPECIAL MACHINE BUILDERS – TOOL TRAY TRANSFER SYSTEMS – LINEAR TRANSFER SYSTEMS
The direct drive gear reducer to gear rack implements higher accuracy and better performance with less components.
The robust tubular steel construction is designed for easy maintenance and accessibility.
Over sized linear bearings guide ways enable it to handle more mass as the integrated internal cable carrier reduce floor space consumption.
TECHNICAL BENEFITS FOR USERS – TOOL TRAY TRANSFER SYSTEMS – LINEAR TRANSFER SYSTEMS
High precision linear rails/guide ways with blocks
Cable management tray (mounted internally by Motion)
Hard stops on each end of transfer for over travel
Special coating to reduce friction and eliminate
external lubing
Installation support by Motion Index Drives at
customer facility
OPTIONS AVAILABLE
Cable Management System
Cable tray location
Carriage size and design
Motor Brands
Custom length
Other Products from Motion Index Drives, Inc.