Leadshine Technology Product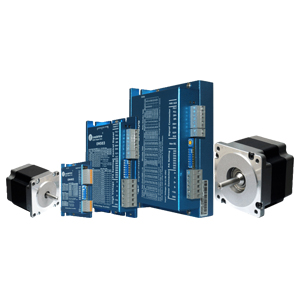 As the largest stepper drive designer and manufacturer around the world, Leadshine provides tens of models of stepper drives. From 2 phase to 3 phase, analog to DSP digital, DC input (18-80) to 110/120 AX or 220 / 220 AC input, Leadshine can provide the right stepper drives to satisfy the needs of your stepper control systems. Leadshine stepper products are well-known because of their wide choices, excellent performance, easy to use, high reliability, and low costs. Leadshine stepper drives have been implemented by thousands of OEM clients in the world from tens of industries such as CNC machinery, medical, electronics, semiconductor, packaging, lab automation..
Leadshine offers three main series of stepper drives, the advanced digital EM series, digital DM series, and classic M series. The EM series stepper drives are 32-bit DSP-based and adopt Leadshine's latest stepper control technology with many advanced features. The high performance DM series digital stepper drives are featured with extra low noise, very low motor heating, and ultra smooth motor movements at low speed. With performance and costs balanced, Leadshine's M series stepper drives adopt pure sinusoidal control technology & anti resonance, and can offer excellent high speed performance.
Typical Applications
Suitable for applications require high reliability, high performance, low cost stepper systems, such as CNC routers, small and medium size milling or engraving machines, laser machines, textile equipment, medical devices, assembly machines, pick-and-place devices, etc.
Other Products from Leadshine Technology