JVL A/S Product
ServoStep Integrated Stepper Motor
Model: MIS171-176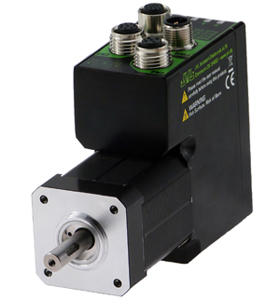 MIS171-MIS176 QuickStep - NEMA17 Programmable Integrated ServoStep Motors with Closed-Loop, Ethernet, multiturn encoder
QuickStep, the Integrated ServoStep Motors from JVL.
All in one smartmotor with integrated controller. A wealth of possibilities with this new NEMA17 stepper with closed-loop servo-operation up to 3000RPM, It offers the highest microstepping resolution, position/velocity/torque servo-performance up to 0.8Nm.
MIS171 - 0.36Nm
MIS173 - 0.56Nm
MIS176 - 0.80Nm
Available with CANbus, RS485, SSI, Industrial Ethernet Profinet, Ethercat, Ethernet/IP, Powerlink, Ethernet TCP, Sercos III , Absolute multiturn encoder, PLC 8IOA, clock/direction and STO.
Velocity resolution 0,01RPM for extreme low speed operation and 409600 step/rev for highest precision. Different shaft diameter, brakes and high IP protection make it ideal for machine adjustment or other demanding applications.
Closed-Loop Operation
Real Torque Control Mode
PLC build in
Absolute Encoder
Top or rear end M12 or M23 connector
409600 step/rev
High Resolution Encoder
Operation Control Modes
Optional:
STO connector
Double Shaft & Rear brake
CANopen
Industrial Ethernet
Wifi/BT, Wireless Ethernet
Note that the controller is also available as separate unit - SMC66.
Other Products from JVL A/S