Harmonic Drive LLC Product
SHA CG Actuator
Model: SHA CG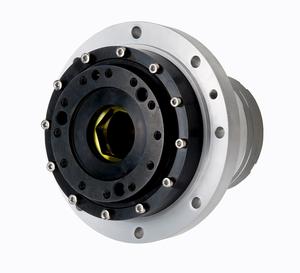 High torque, hollow shaft servo actuators with direct drive motor performance in an extremely compact size. The SHA-CG offers superior rotary positioning accuracy and an output flange with a surface run-out less than 10 microns.
The SHA-CG actuators feature a compact, hollow shaft configuration for design versatility in demanding applications. Ideal for machine tool applications, the SHA Series of brushless actuators provide high torque for fast acceleration and positioning. SHA-CG actuators are composed of a Harmonic Drive® CSG zero-backlash gear combined with a brushless servomotor with an encoder resolution at the output up to 20,971,520 pulse/rev. The actuators are also available with an optional brake. Positional accuracy better than 1 arc-min and repeatability better than ±5 arc-sec is achieved while delivering up to 3,400 N m of torque. A robust cross-roller bearing allows mounting of large loads directly to the actuator without the need for additional support.
The SHA-CG has a Torque to Weight ratio as much as 8 times greater than comparable housed direct drive motors, and a Torque to Volume ratio as much as 6 times greater. This allows for a more compact and light-weight machine design.
SHA-CG Specifications:
High Accuracy: Zero-backlash Harmonic Drive® gear reducer
Hollow Shaft diameter: 17-45mm
Available in 4 sizes, 20, 25, 32, 40
Maximum speed up to 120 rpm
Design: Compact, flat, hollow shaft
Known for its expert engineering and manufacturing, Harmonic Drive LLC products are relied upon every day throughout the manufacturing community.
APPLICATIONS for Harmonic Drive products:
Machine Tool: Milling Head, Tool Changer, Rotary Table, Grinding, B & C Axis
Robotics: Industrial, Semiconductor & Flat Panel, Humanoid, Mobile Robots
Energy: oil exploration, drilling and positioning, wind power, solar
Defense: Unmanned Vehicles, Remote Weapon Stations, Antenna Pointing
Medical: Surgical Robots, Medical Imaging, Therapeutic, Prosthetics, Exoskeletons, Lab Automation
Aerospace: Solar Array Drives, Antenna Pointing, Valve Actuators, Lunar and Interplanetary Rovers
Other Products from Harmonic Drive LLC