Harmonic Drive LLC Product
Zero Backlash Gearhead
Model: SHD-2SH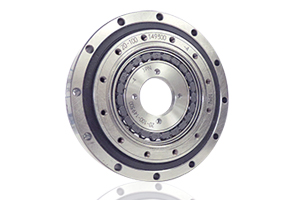 Axially compact and lightweight, these gear units feature a large hollow input shaft and a robust cross roller bearing so loads can be mounted directly to the unit without the need for additional support bearings. Our Simplicity Gear Units are Non-housed component gears combined with a precision cross roller output bearing. Simplicity Gear Units do not include the housing and output flange, which allows for even tighter integration into the customer's housing or machine structure. With the addition of the 80-:1 and 120:1 ratios for these product lines, it is even easier than ever to find the exact speed reducer to optimize your project.
Key Features:
Zero backlash
Extremely flat profile
Hollow through bore
High positioning accuracy
High stiffness cross roller bearing output
High radial, axial, and moment load capacity
Peak torque: 12~450 Nm
Ratios: 50:1~120:1
About Harmonic Drive LLC
Harmonic Drive, LLC engineers and manufactures precision servo actuators, gearheads and gear component sets. We work closely with both Fortune 500 and companies of all sizes to understand their application requirements and provide a standard or custom-engineered solution to enable the success of their design project. The majority of the products sold by Harmonic Drive, LLC are proudly made at our manufacturing facility in Peabody, Massachusetts. Harmonic Drive Group Companies in, Japan (Harmonic Drive Systems, Inc.) and Germany (Harmonic Drive AG) provide additional products. We have shared core values, product designs and quality standards. State of the art manufacturing facilities in the US, Japan and Germany enables us to locally serve the needs of our global customers.
With over 50 years of experience, our expert engineering and production teams develop enabling technologies and products to meet the needs of an evolving motion control market. We are very proud of our outstanding company history. Our high-precision, zero-backlash Harmonic Drive® gears and Harmonic Planetary® gears have, and continue to play critical roles in robotics, spaceflight applications, semiconductor manufacturing equipment, factory automation equipment, medical diagnostics and surgical robotics. More information can be found by visiting the company's website at www.harmonicdrive.net
Harmonic Drive is a registered trademark of Harmonic Drive Systems.
Other Products from Harmonic Drive LLC