FANUC America Corporation Product
M-410 Series Palletizing Robot
Model: M-410iB and M-410iC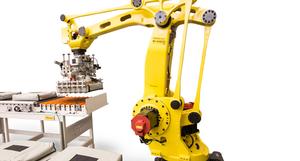 FANUC's M-410 palletizing series increases throughput on palletizing and handling applications for nearly any medium to heavy palletizing payload. With a capacityies ranging from 110kg to 700 kg and a reach up to 3.1 m, the 4 or 5 axis M-410 robot series is ideal for handling medium to heavy payloads. FANUC was one of the first robot suppliers to develop a series specifically designed for palletizing, and draws on years of experience and expertise in end of line automation.
The M-410 Series robot is designed for precise, high-speed case, pail, and bag palletizing and de-palletizing, layer handling, press tending, machine load/unload, and part transfer.
Visit the FANUC M-410 Series Palletizing Robot page for more information.
Other Products from FANUC America Corporation