FANUC America Corporation Product
Power Motion i-MODEL A Motion Controller
Model: Power Motion i-MODEL A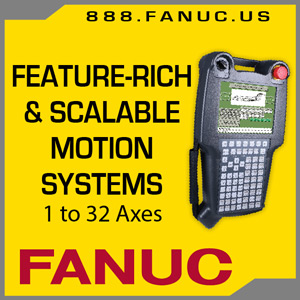 The Power Motion i-MODEL A motion controller from FANUC America is ideal for high performance, multi-axes general motion applications. It is an integrated solution supporting up to 32 axes of high performance motion control, combined with high speed programmable logic controllers supporting up to 2048 input and 2048 output points. Users trust FANUC's superior control and servo technology, reliability and support for machine tools, and now they can have that same performance and value for their general purpose motion control equipment.

The Power Motion i-MODEL A provides a variety of standard screens for setup, operation and maintenance and an easy high-level motion path programming system. It provides fast, low-cost application development, an integrated motion specific architecture that provides a highly competitive hardware cost for multi-axis applications, as well as the reliability and performance that delivers the lowest total cost of ownership.

The Power Motion i-MODEL A offers multi-axis and multi-path functionality for a maximum of 32 total control axes that can be grouped in up to 4 independent control paths, each path containing a maximum of 24 axes; 4 axes simultaneous motion. Alternatively, up to 16 axes can be individually controlled directly by the programmable logic controller. Advanced functions allow flexible motion control of axes by position, speed, torque or pressure.

A broad range of highly customizable display solutions are available to meet application needs including integrated LCD screens, standalone solutions supporting multiple screens and sophisticated hand-held displays that are ideal for teaching or operations close to the application.

The Power Motion i-MODEL A integrates seamlessly and quickly into production systems with the widest range of field network support. Communications with business systems, manufacturing systems and robots are achieved easily with embedded Ethernet.
Other Products from FANUC America Corporation