Cone Drive Product
WhisperDRIVE™ Right-Angle Servo Gearhead for Precision Motion Control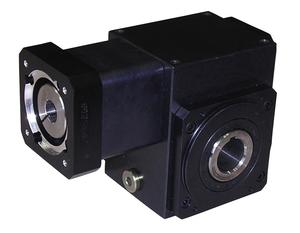 The WhisperDRIVETM Right-Angle Servo Gearhead offers the highest level of precision within the ACCUDRIVETM Precision Motion Control series. Featuring Cone Drive's true double-enveloping worm gear technology, the WHISPERDRIVETM offers low and absolute zero backlash options with hollow or solid output shafts that provide you with high torque capacity, high-efficiency and quiet and smooth running.
Proven Reliability
Double-enveloping worm gearing provides high torque capacity, high efficiency, quiet and smooth running, and high torsional rigidity
Factory filled with synthetic gear oil, double oil seals and O-rings provide IP65 protection and leak free operation
Standard hollow shaft provides compact mounting which saves space and not needing a coupling saves cost
Integrated zero backlash bellows coupling provides fast, error-free alignment
Piloted motor flange mounts directly to any servomotor, NEMA motor, or IEC motor
Three levels of Precision available: Absolute zero backlash for life, low backlash as low as 3 arc minutes and standard backlash
Made in the U.S.A.
Product Specifications
Case Sizes: 38, 58, 64, 76 and 89
Output Torque: Up to 7,800 LB. IN. (880 NM)
Gear Ratios: 5, 6, 7, 8, 9, 10, 15, 20, 25, 30, 40, 50 and 60 (All ratios are exact. Custom ratios are available)
Input Options: Solid shaft, Servo motor mount
Output Options: Solid shaft, keyed hollow shaft, shrink disc hollow shafts
Warranty: 5-years from date of shipment
Other Products from Cone Drive