Weekly Bot Brief Newsletter on Robotics 7/30/2021
"There is no force on earth more powerful than an idea whose time has come."
-Victor Hugo
Bots in The News: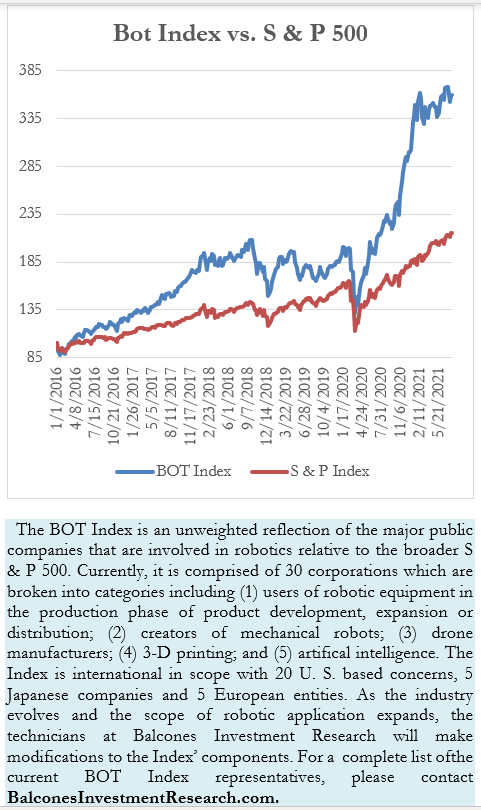 Bad revenue news from Amazon and PayPal together with a rising concern over the economic impact presented by the Covid-Delta variety led the broad market slightly lower last week. The S & P 500 was off 38 basis points while the Bot Index managed to eke out a 19-basis point increase.
The bots were led by Tesla's 6.81% improvement as Elon Musk announced that he was declaring August 19th as AI Day. Not explaining what the event would reveal, investors, nonetheless, took it to mean a significant new step in the production or capabilities of his EV line. Much like previous, Battery Days, the AI day will produce interest by the legions of Tesla fans.
Historically volatile price movements by 3D Systems were again present in this week's trading. Shares of the company rose 6.66% (usually a bad-omen number) following the announcement that the company was divesting its medical simulation business to a Swedish firm for $305 million. The transaction will allow the company to focus on its core business and leave the balance sheet with no debt and a $500 million cash kitty.
Elsewhere in the winner's column were Keyence who rose 6.49%, Cognex gained 5.05% and AeroVironment up 4.88%. According to Zachs Investment Services, Cognex is expected to post quarterly earnings of $0.42 per share in its upcoming report, which represents a year-over-year change of +4300% while revenues are anticipated to be $263.11 million, up 55.6% from the year-ago quarter. AeroVironment's increase was attributed to a new contract award of $15.9M for the Puma 3 AE, Raven Unmanned Aircraft Systems.
Hiwin Technologies declined 16.12% on significantly higher volume and Amazon fell 9% to lead the weaker components of the Bot Index. Amazon reported second-quarter adjusted EPS of $15.12, beating analyst estimates of $12.30. Revenue for the quarter was $113.0 billion, missing consensus forecasts of $115.2 billion. Revenue was up 27% from a year ago.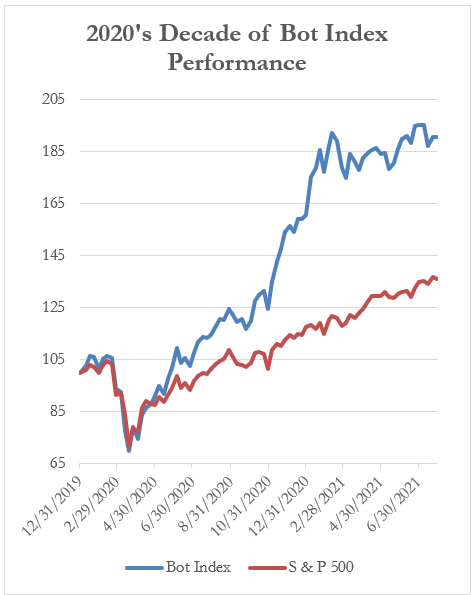 Member: American Economic Association, Society of Professional Journalists, United States Press Association. Institute of Chartered Financial Analysts, Robotic Industries Association, Member IEEE.
The Bot Brief is a weekly newsletter designed for economists, investment specialists, journalists, and academicians. It receives no remuneration from any companies that may from time to time be featured in the brief and its commentaries, analysis, opinions, and research represent the subjective views of Balcones Investment Research, LLC. Due to the complex and rapidly changing nature of the subject matter, the company makes no assurances as to the absolute accuracy of material presented.