CYBATHLON and maxon: Getting ready for round two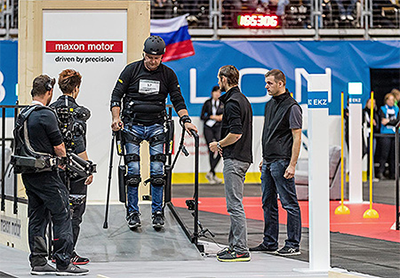 At CYBATHLON, people with physical disabilities compete against each other in exciting races—supported by state-of-the-art technical assistance systems. There are new challenges for the contestants and the engineers in all disciplines. As a Presenting Partner, maxon is at the forefront.
Overcoming everyday obstacles and driving technological development: For the first event 2016 in Zurich, the CYBATHLON set the bar high–and cleared it with ease. With a sold-out arena, enthusiastic teams, and global media coverage, it comes as no surprise that ETH Zurich decided to continue the CYBATHLON. The organizers have set their sights even higher for the second installment.
CYBATHLON features competitions in the six disciplines: Virtual racing using thought control, bicycle racing with electrical muscle stimulation (FES), dexterity challenges with prosthetic arms, obstacle course with prosthetic legs, obstacle course with robotic exoskeletons, obstacle course for powered wheelchairs. However, a few things are changing: The event will take two full days, which means that more teams will be able to participate, and there are new challenges in each discipline. For example, the wheelchair circuit now includes opening a door with the aid of a robotic arm.
maxon supports participating teams
The drive specialist maxon already supported the CYBATHLON 2016 as a partner. Among other contributions, the trainees of the company built a height-adjustable podium. maxon joined the second event without hesitation, this time as a Presenting Partner. CEO Eugen Elmiger says: "We believe that excellent engineers with a curiosity for new things can make the world a better place. This is why maxon has supported the right from the start." The company is involved in many of the participating teams, offering support with discounted drives and know-how through its Young Engineers Program. For more information please see: https://drive.tech
Service Robots
This content is part of the Service Robots curated collection. To learn more about Service Robots,
click here
.