Swiss racer Sébastien Buemi is now a member of the maxon family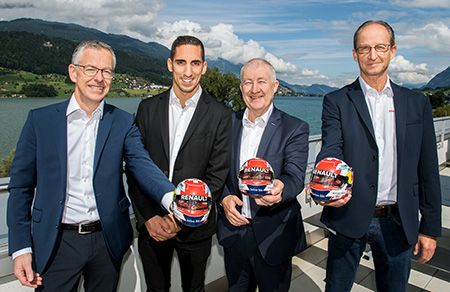 Drive specialist maxon and Swiss car racer Sébastien Buemi team up to share their passion for precision, efficiency, and e-mobility.
Racer Sébastien Buemi knows what precision and efficiency are. After all, the former F1 driver has already won 13 races in the new Formula E and was the world champion in 2016. Being fast is not enough to be a front runner in this fully electric race series, a driver must also be efficient with the available energy, or the battery will be empty before he reaches the finish line. That's why Sébastien Buemi is a perfect match for maxon, whose high-end electric motors can be found not just in Mars rovers, but also in the Ad-Blue injection systems used in Formula 1 race cars.
maxon has decided to collaborate with Sébastien Buemi, and the parties signed the contract on September 9th. To celebrate the occasion, Buemi visited maxon in Obwalden to get to tour the company and meet the maxon team. Buemi was impressed with the cleanrooms and the tiny drives with a diameter of only four millimeters.
When the Formula E starts into its sixth season on November 22nd, the Swiss collaboration will be represented by the maxon logo on Buemi's racing suit. Buemi will also act as an ambassador for maxon. He says: "I'm proud of working with a Swiss high-tech company and being part of the maxon family." The joy is mutual. Eugen Elmiger says, "Sébastien and the Formula E in general are a great match for maxon. After all, we are increasingly becoming a systems provider, and the e-mobility market is particularly interesting in this regard."