Robotic Golfer Never Misses
College trio's project gains corporate attention
STAPLES, MINN. – Think Tiger Woods is tough golf competition? What about trying to out-putt a robot?
Before graduating last year, three Central Lakes College robotics students created one that hardly ever misses from 20 feet.
Of course, they call their baby "The Golfer."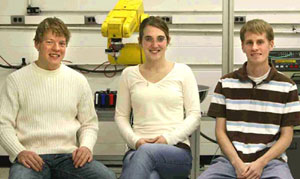 Daniel Benjamin was the mastermind, Jennifer Garry applied her photographic skills using a Machine Vision camera, and David Brainard directed the assembly. Together, and with guidance from instructor Greg Scheler, they produced an automated system that has impressed the robotics industry.
The team created their unique golfer using materials and products from Fanuc, General Electric, and Cognex and design software such as SolidWorks and AutoCad.
At least one Cognex official viewed the YouTube video demonstration of The Golfer. Heather Saleem, e-marketing specialist at Cognex Corp., said the company's newsletter will feature The Golfer.
A video of the CLC students' project in action can be viewed at http://www.geocities.com/robovision0607/golfer.html
"The video was actually our second try because on the first try it did not make it all three times," said Benjamin. "It made it in about 80 percent of the time, and the main reason it would miss was because of the irregularities in the terrain, not because it didn't hit it accurately."
Their goal was to use a Cognex vision processor to detect the golf ball on the green, calculate coordinates and angle to the hole, and send data to the robot to swing the club at the proper place and angle to make a hole in one.
After finishing their final project in a two-year college program, the trio of 2007 graduates from the Staples campus received offers for promising internships and employment. Benjamin was accepted among 22,000 applicants for entry to the Robotics Institute at Carnegie Mellon University in Pittsburgh.
"CMU is considered the most advanced research and development robotics lab in the country, if not the world," said Scheler.
All three continue to relish the challenge of invention and emerging technology.
"Running into problems only makes you dig deeper," said Garry, a Lake Shore native who also earned two photo-related degrees and national certifications from CLC. She and Brainard are among several CLC alumni working for Delkor Systems Inc., Circle Pines.
"I'm in the process of starting a new vision application for Delkor with one of our customers," Garry said. "With the new vision system we hope to detect half-pint milk cartons that are not properly sealed."
Her work also involves loaders, tray formers – "everything from assembly to installation and servicing," she said. She has enjoyed travel across the country since becoming an employee at Delkor in July of 2007.

Garry's hobby remains photography as she is a certified photographic consultant who photographs weddings, senior portraits, and enjoys personal art photography.
"I wanted more challenges and was intrigued by the Institute of Technology at Carnegie Mellon," said Benjamin, a 2005 honors graduate from Hutchinson High School. He has just finished the first of potentially four years in electrical and computer engineering at CMU.
"It's very expensive ($38,000 annual tuition)," he said, "but I'm confident that my CMU education will reap rewards that outweigh these current difficulties."
He said this fall he may be involved in a CMU project to send a rover to the moon for the Google X prize. He is considering graduate school at CMU and wants to be employed in robotics research.
Brainard said his confidence had begun to rise even before The Golfer project. While at Central Lakes College as a post-secondary option student, the Frazee native was a member of the national championship Skills USA robotics team.
"It was a good way to boost my confidence in my skills," he said. That first place brought with it some 3D CAD software. Brainard put it to use for The Golfer, "to lay out the entire robot golfer on the computer in solid models."
"I thoroughly enjoyed the time at CLC," he said. "I was home-schooled right up to going to college. I appreciated classes that were small enough to get the right amount of assistance and to be able to go out in the shop and program robots."
Brainard is a year into his Delkor work as an electrical designer. "I do a lot of projects for both electrical and mechanical engineering departments." He uses some of the same software introduced to students in robotics as well as mechanical drafting and machine tool technology on the Staples campus.
Instructor Scheler at CLC is proud of the trio for also taking on a second project, a color poker chip-picking robot. It also incorporated camera vision elements in the programming.
"They were great students and have a great future ahead of them," Scheler said. "They took the basic concepts and went farther than anyone could have imagined. This is why we teach, it keeps us going."