Olis Robotics Secures $4M Funding

Olis Robotics Secures $4M Funding to Meet Surging
Demand for Remote Robot Management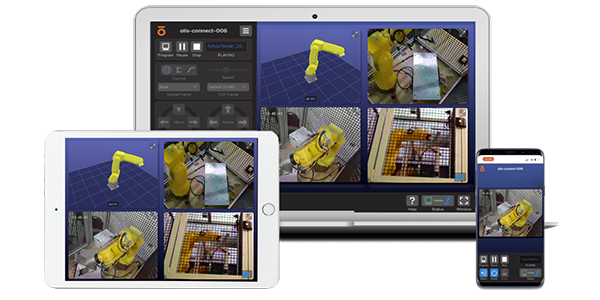 The Olis Connect system allows a user to monitor, diagnose, and remotely control robots from anywhere. 
It can move a robot out of its error position, release its grip on a part causing a problem, 
or even use the robot to remove a bad part from a machine. The system makes for fast and easy recovery 
and gets a manufacturing process back on track in minutes instead of hours or days.
Olis Robotics, specialists in remote monitoring, control, and error recovery technology for industrial robots, today announced that it has raised $4.1 million funding in a round led by PSL Ventures. Additional investors include Tectonic Ventures, and Ubiquity Ventures, as well as several prominent strategic angel investors, including robotics pioneer Daniel Theobald, the President and co-founder of MassRobotics and Founder and Chairman of Vecna Robotics.
"We have deployed thousands of robots in the past two decades as a company. Given the current labor challenges, we expect a majority of those to be retrofitted with Olis technology within the next couple of years." - Brad Sparkman, President and CEO of Innovative Finishing Solutions (IFS)
By safely enabling remote monitoring, control, and troubleshooting of industrial robots, Olis Robotics' unique 'Olis Connect' system significantly improves Overall Equipment Effectiveness (OEE), effectively addressing costly robot downtime.
"In the midst of a global manufacturing labor crisis, companies are adopting automation in record breaking numbers, resulting in calls from both manufacturers and integrators for robust, safe, and secure remote monitoring, diagnostics, and control solutions," says T.A. McCann, partner at PSL Ventures, who joins Olis Robotics' Board of Directors. "Olis Robotics' unique remote robot control technology answers that call; it can easily be deployed on both brand new and legacy automation, which means a dynamic and exciting market opportunity for investors."
"Robot downtime can cost a large plant over $1 million per hour. When every minute counts, you need to leverage remote tools to react as quickly as possible no matter where you are," says Fredrik Ryden, CEO of Olis Robotics."Our technology is ingeniously simple to use and intensely practical in terms of its impact."
Olis Connect is controlled directly in a web browser and delivered on an edge-hosted PC that can be quickly connected to both brand new and legacy industrial robot arms and robotic cells. The system works across robot brands, with Olis Robotics currently providing full support for robots from Universal Robots and FANUC, addressing approximately 20% of the operational stock of more than 3.5 million industrial robots deployed worldwide. With its new funding, Olis is adding support for additional robot brands representing more than half of all industrial robots. The funding will also help expand partnerships with robot system integrators in North America and develop new software products.
"Being able to remotely operate industrial robots is a game changer for us and the industry as a whole," says Brad Sparkman, President and CEO of Innovative Finishing Solutions (IFS), an Olis Robotics Partner and leading integrator of FANUC paint robots for the automotive industry. "We have deployed thousands of robots in the past two decades as a company. Given the current labor challenges, we expect a majority of those to be retrofitted with Olis technology within the next couple of years."
Silas Robertson, SVP of Sales and Marketing at Applied Automation and an Olis Robotics Partner, emphasizes how Olis Connect empowers companies to leverage their best robot programmers anywhere in the world: "What really excites me about what Olis brings to the market is the ability to unlock company resources through remote robot access in real time, ultimately providing better support for customers and their robotic applications."
Once Olis' plug & play device is installed and secure remote access has been configured, users can monitor and manage their automation remotely from anywhere via any browser-capable device. If a problem occurs with the robot, Olis Connect sends out an alert via a secure connection to the user's device all without connecting to the cloud – a key consideration given the threats surrounding today's industrial cybersecurity landscape. Users can then use the system to remotely perform error recovery actions such as releasing its grip on a part or moving the robot from its error position.
Olis Connect provides users with a unique remote error correction functionality, which means that they can get robots back up and running remotely, reducing downtime from hours to mere minutes. Three cameras provide low latency monitoring of the entire cell, enabling 24/7 measurement of Key Performance Indicators such as OEE and instant, on demand video replay to forensically diagnose the root cause of any error.
Leveraging the Olis Robotics team's expertise in industrial robot safety, Olis Connect is designed to provide remote access without violating the robot's existing safety permissions and restrictions. This means that velocity, acceleration, and joint limit settings on the robot are always obeyed when remote controlling the arm.
A record 517,385 new industrial robots were installed worldwide in 2021, according to the World Robotics Report 2022 from the International Federation of Robotics (IFR), driven by a host of factors from labor shortages and reshoring initiatives to rising ecommerce demand. The IFR expects annual growth rates in the medium to upper single-digit range.
"In addition to the market need and opportunity, we love backing technical founders with a clear starting point and a big vision. Fredrik is one of those kinds of founders," says T.A. McCann, partner at PSL Ventures.
Download press kit: Here
About Olis Robotics
The company is a spinoff from the University of Washington and is located in Seattle's Fremont neighborhood. The innovative industrial telerobotic solutions of Olis Robotics are the result of R&D with the US Navy and NASA. Olis Robotics has taken this technology developed for challenging remote robot operation environments and optimized it for industrial automation applications. For more information, visit https://olisrobotics.com.
About PSL Ventures
PSL Ventures is a venture capital fund located in Seattle, WA. The fund is affiliated with Seattle-based startup studio Pioneer Square Labs, and invests in pre-seed and seed stage companies — both spun from and separate from the studio. The organization partners with exceptional founders at the earliest stages to help build and invest in market-defining technology companies, primarily in the Pacific Northwest.
For more information, visit www.psl.com.
Contacts
Company Contact:
Fredrik Ryden
+1 855 337 6268
[email protected]