OCTOPUZ collaborates with OTC Daihen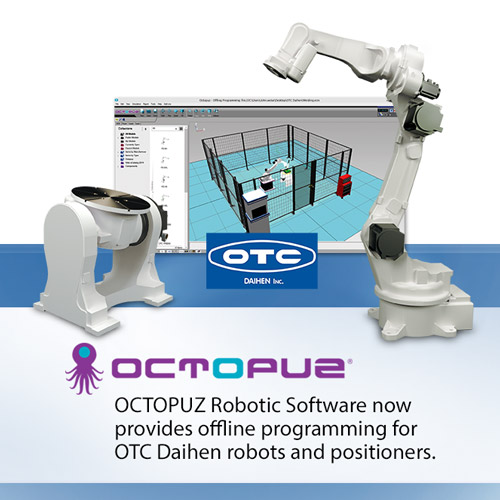 OCTOPUZ broke ground Monday, July 28th, on-site at OTC Daihen in Ohio, USA, with successful code integration betweenOTC Daihen robots and OCTOPUZ software. Integration was tested using a Daihen OTC FDB4 robot. This is yet another OEM robot brand now supported with this powerful software tool.
The OCTOPUZ welding add-on gives users tremendous versatility and features support for OTC Daihen's welding applications including:
multilayer welds
stitch welding
touch sensing
seam tracking
downhill welding
The electronic catalog of OCTOPUZ has also grown with CAD models of OTC Daihen's newest line-up of robots and positioners. Users can now easily assemble a robotic weld cell with an OTC Daihen robot and have OCTOPUZ generate programs using their own custom tooling and equipment with just a few clicks!
It provides a fully customizable welding experience that will help you get to that perfect weld every time.
OCTOPUZ currently supports offline programming for Robot manufacturers like FANUC, Kawasaki, KUKA, Mitsubishi, Nachi, Stäubli, YASKAWA and ABB. OCTOPUZ is continuously evolving and growing into a leading software solution for the robotics industry. Compatibility for additional robot brand support is ongoing and clients can expect to hear more good news about the latest features and developments coming soon.