Nexen Precision Ring Drive Indexer Mounts in any Orientation to Provide Fast, Maintenance-free Indexing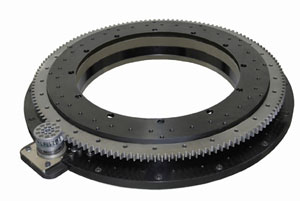 Precision Ring Drive is an efficient alternative to direct drive motors
Vadnais Heights, MN – Nexen Group, Inc. introduces the Precision Ring Drive Indexer (PRD) – a highly flexible, durable and efficient alternative to direct drive motors capable of 2x faster indexing than competitive indexing options. Unlike most cam drive systems, the PRD can start and stop at any incremental position. The motion profile is quickly and easily changed by simply loading a new servo drive program into the system. As a result, this solution delivers precise and flexible indexing and rotary positioning ideal for a wide range of welding, positioning system, medical product, automotive, aerospace and semiconductor applications.
"Not only is the Precision Ring Drive Indexer efficient ,precise and flexible; its robust design minimizes maintenance requirements to help users maximize machine and process productivity," Tony Kliber, Engineering Director, Precision Motion Control Products. "We eliminated oil baths to reduce time-consuming cleanups. We also designed the PRD so it can be mounted in any orientation - and the large hollow center allows it to be easily mounted with cabling through the center of the rotating plate."
The PRD combines Roller Pinion System technology with a precision-grade bearing and gearhead. The PRD table is supported by a high capacity cross-roller bearing rated for loads up to 1575 kN. It is capable of speeds up to 94 RPM and can handle peak torque inputs at any time.
About Nexen Group, Inc.
Nexen Group, Inc., is a leading manufacturer of precision motion control solutions including linear drive systems, precision rotary indexers, and linear locking components. Nexen group's power transmission products include spring set brakes, tooth clutches and torque limiters for a wide variety of automation applications in the Aerospace, Robotics, Machine Tool, Automotive, Packaging, Material Handling and Medical industries.
The Company's heritage is built on producing technically superior products while providing the highest level of customer support. As a leading manufacturer of precision motion control components, power transmission and web tension control products, Nexen works to remain at the forefront of cutting edge engineering and production excellence. Their production capabilities include computerized control and testing systems, dry cutting applications, special coating processes, over 80 multi-axis precision CNC machine tools and automated assembly. Nexen customers experience innovations that adhere to industry specifications, optimize their metrics and provide solutions focused on increased uptime, longer machine life and reduced maintenance.
PR Contact
Julie Eleftheriou
Tel: 952.913.3065