NEXEN Eclipse Servo Motor Brakes Deliver Significant Advantages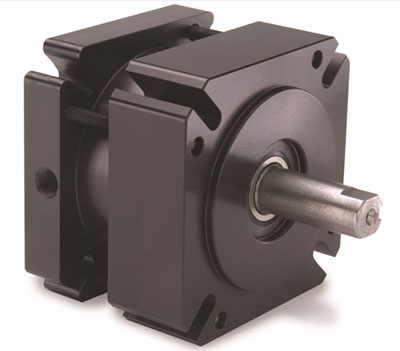 Vadnais Heights, MN – Nexen Group's Eclipse Servo Motor Brakes offer distinct advantages over spring-engaged, electrically-released brakes. With Nexen's servo motor brake, no energy is consumed when the brake is disengaged. (Electrically-released brakes consume power continuously, even in disengaged mode, creating heat inside the brake, which detracts from its ability to produce full torque.) It is spring-engaged/air-released (no electric coil) to keep the brake cool until it's needed.
Nexen's servo motor brakes are designed to mount to the shaft end of servo motors up to 20 horsepower, including NEMA 23, 34 and 42 frame sizes. The brake's square-shaped housing allows flexibility to custom make the mounting features match the motor dimensions. The brake's output end duplicates the motor mounting features. The input end bore accepts the motor shaft and is fixed inside the brake with a split-hub/shaft collar arrangement.
Key features and benefits of the Eclipse servo motor brakes:
Fail-safe, power-off engagement
High torque – 50% more torque than competitive models (torque range 2 to 125 Nm)
Zero backlash for accurate holding
Integral flanges adapt to any servo motor or AC motor brand and mounting style
High torsional rigidity, no system wind-up
Models configured to hold the machined end of a ball screw
Can be used for intermittent dynamic stopping
Spring engaged for holding and E-stop applications
High speed capability – engineered and balanced for servo applications
The Servo Motor Brake is a perfect complement to Nexen's RPS system, holding an accurate position while work is being performed.
About Nexen Group, Inc.
Our heritage is built on producing technically superior products while providing the highest level of customer support. As a leading manufacturer of precision motion control components, power transmission and web tension control products, Nexen works to remain at the forefront of cutting edge engineering and production excellence. Our production capabilities include computerized control and testing systems, dry cutting applications, special coating processes, over 80 multi-axis precision CNC machine tools and automated assembly. By working with Nexen, our customers experience innovations that adhere to industry specifications, optimize their metrics and provide solutions focused on increased uptime, longer machine life and reduced maintenance.
PR Contact
Julie Eleftheriou
Tel: 952.913.3065