Motion & Control Industry 2017 Awards Skills & Training Finalist is PI (Physik Instrumente)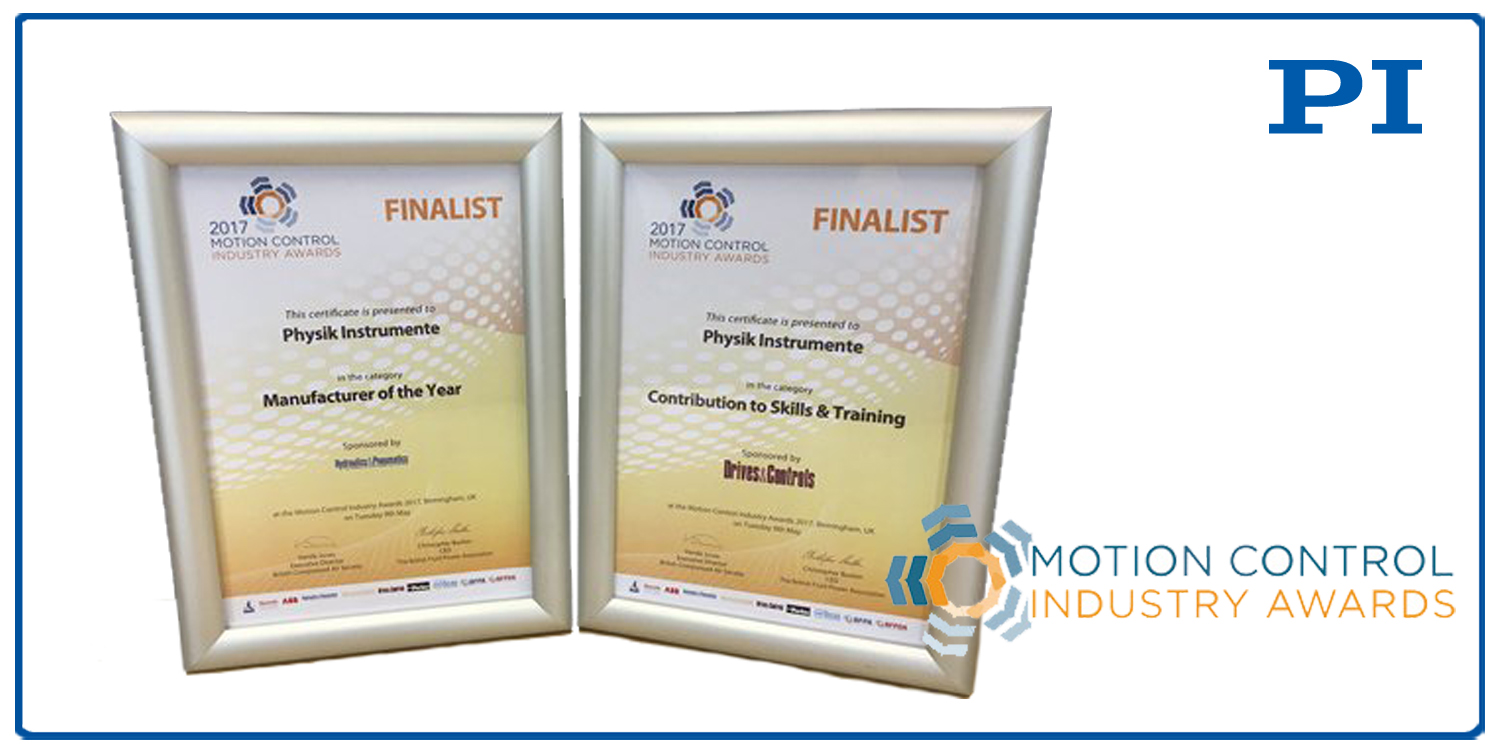 Auburn, MA – Motion control and nanopositioning application solutions expert PI (Physik Instrumente) is celebrating a second consecutive year of recognition at the 2017 Motion and Control Industry (MCI) Awards, receiving finalist status last month for "Manufacturer of the Year" and "Contribution to Skills & Training" at the award ceremony held at the National Conference Centre, near Birmingham, UK. PI was awarded MCI's 2016 "Manufacturer of the Year", which recognizes both individuals and companies as the best of the best in the motion control industry.
Commitment to Partnership and Training
The continued recognition in the field of motion control is based on the company's successful partnership approach of working closely with its customers to build long-term, trusted relationships that help customers realize the true potential of precision motion and control. Coupled with a commitment to empower customers thru free Lunch & Learn education sessions, PI earned the award status for professional training and skills development. Professor Steve Dixon from the Centre for Industrial Ultrasonics, Department of Physics and School of Engineering at the University of Warwick, commenting on a Lunch & Learn session, said: "…the talk was pitched in such a way that it was accessible to everyone… If only all high tech companies were so forward thinking and supportive of the field in which they work."
Standard and Custom
PI has in-house engineered solutions with over 4 decades of experience working with customers to provide products that meet application demands, and can quickly modify existing product designs or provide a fully customized OEM part to fit the exact requirements of the application.
About PI
PI is a leading manufacturer of air bearing stages, piezoelectric solutions, precision motion control equipment, and hexapod parallel-kinematics for semiconductor applications, photonics, bio-nano-technology and medical engineering. PI has been developing and manufacturing standard & custom precision products with piezoceramic and electromagnetic drives for 4 decades. The company has been ISO 9001 certified since 1994 and provides innovative, high-quality solutions for OEM and research. The PI group employs more than 1,000 people worldwide in 15 subsidiaries and R&D / engineering centers on 3 continents.