Mitsubishi Electric Renews SCADA Lineup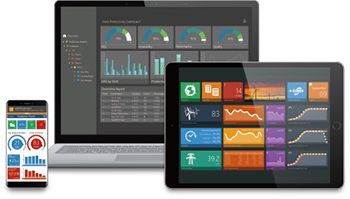 Supporting the increasing focus on digital manufacturing and IoT, Mitsubishi Electric has renewed its SCADA lineup, now offering two types of software for system monitoring and process control under the series name "GENESIS64", replacing the existing "MC Works64" SCADA software. The new lineup will meet the diversifying IoT needs, covering a wide variety of purposes from small production line monitoring and control to multi-site monitoring and business intelligence (BI) of plant-wide systems, process automation as well as utility and building automation. The "GENESIS64 Basic SCADA" is an entry-level software with essential functions for small production lines, and the "GENESIS64 Advanced Application Server" is a full SCADA suite for large-scale monitoring of factories, buildings and utilities.
The "GENESIS64 Basic SCADA" facilitates the visualization of data in small applications but can also be scaled up to medium applications with optional add-ons depending on requirements of the customer.
For customers with bigger system needs, "GENESIS64 Advanced Application Server" will help to create a serverless system using cloud computing, which will facilitate the construction of redundant, multi-location or other highly secure, large-scale systems. This "top end" software can also connect to wearable devices such as smart glasses and smart watches, supporting customers interested in introducing remote monitoring or giving work instructions remotely. Furthermore, the software can be operated by voice commands with the use of AI smart assistant speakers, which helps operators avoid touching the monitoring screen - another function that supports the 'new normal' in the manufacturing world.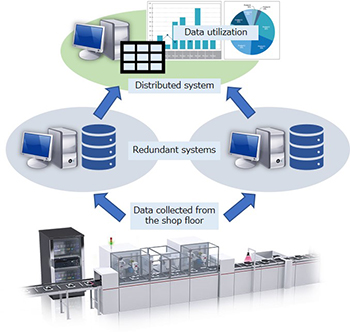 With the renewal of the SCADA lineup, Mitsubishi Electric customers will have a unified one-stop access to SCADA solutions provided by the U.S.-based ICONICS, Inc., a SCADA and IoT analysis software company acquired by Mitsubishi Electric in 2019. Customers will be able to benefit from the combination of ICONICS' software technology and Mitsubishi Electric's FA technology spanning expanded software products and services from the edge to the cloud, all targeted at helping customers solve their automation and process control issues. This integration is initially demonstrated in the direct connection of Mitsubishi Electric PLCs to the GENESIS64 SCADA software, achieving automatic detection and smooth startup while eliminating the need for an OPC server.
For more, visit https://us.mitsubishielectric.com/fa/en/products/visualization/iconics-suite
About Mitsubishi Electric Automation, Inc.
Headquartered in Vernon Hills, Ill., Mitsubishi Electric Automation, Inc., offers a wide range of factory automation products, solutions, training and support services for the industrial and commercial sectors. A U.S. affiliate company of Mitsubishi Electric Corporation, Mitsubishi Electric Automation represents more than 75 years' experience in the automation industry. A broad product portfolio includes programmable automation controllers (PAC), programmable logic controllers (PLC), human machine interfaces (HMI), variable frequency drives (VFD), servo amplifiers and motors, control software, computerized numerical controllers (CNC), motion controllers, robots and low-voltage power distribution products. The company takes its solutions on the road with the 53-foot long Solutions in Motion mobile showroom that appears at tradeshows, training seminars and other events across North America. Additional information about Mitsubishi Electric Automation is available at us.MitsubishiElectric.com/fa/en. In addition to factory automation, Mitsubishi Electric US group companies' principal businesses include semiconductor devices, automotive electrical components, elevators and escalators, heating and cooling products, electric utility products, and large-scale video displays for stadiums and arenas. Mitsubishi Electric US group companies have 38 locations throughout North America with approximately 4,000 employees.
Contact Mitsubishi Electric Automation
Pam Summers
Marketing Communications Manager
Phone: (847) 478-2415