Matrox® Imaging at Automate 2017 — Product Preview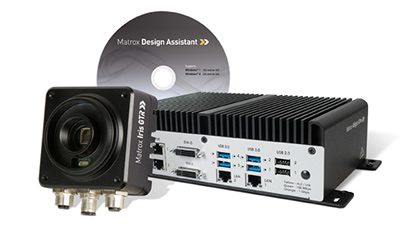 3D profiling and multi-aspect container inspection demonstrations to be showcased at Matrox booth; software, smart camera, vision controller, and frame grabbers to be displayed
MONTREAL — At Automate 2017, (Chicago, April 3–6, booth 2424), Matrox® Imaging will demonstrate the latest version of Matrox Imaging Library (MIL) vision software, and add-ons, paired with the high-performance, cost-effective Radient eV-CXP CoaXPress® frame grabber to create and analyze high-quality 3D profiles of an industrial component.
Matrox Imaging Library (MIL) is a comprehensive collection of software tools for developing industrial imaging applications. MIL includes tools for every step in the process: from application feasibility, to prototyping, through to development, and ultimately deployment. MIL 10 with Processing Pack 2 includes the SureDotOCR dot-matrix text OCR software, a reliable ellipse finder, 3D cross-section extraction and analysis using the existing metrology tool, and a barcode reader that works in more instances without adjusting default settings.
Matrox Radient eV-CXP is a cost-effective, high-performance, and dependable frame grabber for the CoaXPress® interface standard. On-board, Matrox-patented peak location technology aids in 3D profiling, freeing system resources for in-depth analysis. With CXP, image data can be transmitted at up to 6.25 Gbps using a single coaxial cable and up to 25 Gbps using four cables to a maximum of 40 meters. CXP's high-bandwidth makes it the right match for a new generation of cameras with larger and faster image sensors.
In a second demonstration, Matrox will demonstrate vision projects created using the recently released Matrox Design Assistant 5 flowchart-based vision software to inspect container integrity and marking. The projects will run on the new Matrox Iris GTR smart camera as well as the Matrox 4Sight GPm vision controller with two additional cameras.
Matrox SureDotOCR™, a tool developed for MIL, now integrated into Matrox Design Assistant, will also be featured. SureDotOCR allows packaging line equipment builders design inspection systems that can reliably read the often distorted information applied by industrial inkjet printers.
Matrox Design Assistant is the first hardware-independent integrated development environment (IDE) that lets users create an application flowchart and HMI and take machine vision projects from concept to completion in record time, without the need for conventional programming.
Matrox Iris GTR is an extremely rugged, IP67-rated camera measuring just 75mm x 75mm x 54mm allowing it to fit into tight and dirty spaces. It uses On Semiconductor® PYTHON CMOS image sensors with high readout rates and an Intel® Celeron® dual-core embedded processor that allow it to inspect on faster moving lines or perform more inspections in an allotted time.
Matrox 4Sight GPm is a vision controller featuring a unique combination of embedded PC technology, compact size, and ruggedness making it an ideal solution for cost-sensitive image analysis and machine vision applications. Matrox will also have the means to demonstrate both the all-new MIL CoPilot interactive environment, an evaluation and prototyping companion to the Matrox Imaging Library (MIL) collection of software tools, and Matrox Design Assistant 5.
About Matrox Imaging
Established in 1976, Matrox Imaging is a leading developer of component-level solutions for machine vision, image analysis, medical imaging and video surveillance. Products include frame grabbers, vision processors, imaging computers, industrial and smart cameras, and application development software. Headquartered in Montreal, Quebec, Canada, Matrox is a privately held company with offices in the United Kingdom, Ireland, Germany and Hong Kong.
Company Contact
Myles Carter
Tel: +1 (514) 822-6000 ext. 2046