LMI Technologies Receives Official Universal Robots+ Certification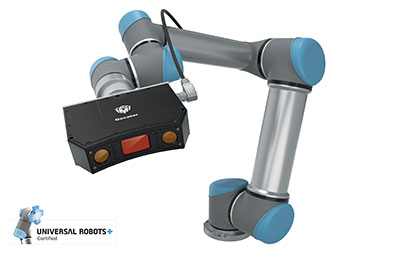 Gocator® Certified for Integration with UR Robots to Provide Smart 3D Guidance, Inspection, and Automation Capability

Vancouver, BC – LMI Technologies (LMI), the global leader in 3D scanning and inspection, is pleased to announce it has officially been Certified for integration with Universal Robots.
Universal Robots (UR) is the market leader within collaborative robot arms (called cobots) targeting companies of all sizes. Their easy-to-use and cost-efficient UR3, UR5, UR10, and UR e-series models are deployed in several thousand production environments around the world today—in key factory automation applications such as pick-and-place, quality inspection, and packaging and palletizing.
The UR certification applies specifically to LMI Technologies' Gocator® 3D snapshot sensors, which use stereo structured light technology to measure shape and orientation of parts for automating inspection, part movement, and guidance type applications.
Users are able to easily integrate Gocator® 3D snapshot sensors into applications using UR devices with support provided by the Gocator® URCap plugin. The plugin allows engineers to connect to a robot controller or PC application to perform sensor hand-eye calibration and implement pick-and-place movement. There is no need for additional programming, making it easy to set up robotic systems for factory automation applications.
"In many ways, UR and LMI have a lot in common as we both strive to build 3D solutions that are cost effective and easy to use. Connecting 3D machine vision with robots is a natural fit that enables robots to do so much more by responding to dynamic changes in the environment. We are excited about the many benefits this combination of 3D sensing and robotic technology can provide to customers in their pick-and-place and quality inspection applications," said Terry Arden, CEO of LMI Technologies.
About LMI Technologies
At LMI Technologies we work to advance 3D measurement with smart sensor technology. Our award-winning, FactorySmart® sensors improve the quality and efficiency of factory production by providing fast, accurate, and reliable inspection that leverages smart 3D technologies. Unlike contact based measurement or 2D vision, our product removes complexity and dramatically reduces implementation cost.
About Universal Robots
Universal Robots was co-founded in 2005 by the company's CTO, Esben Østergaard – the 2018 Engelberger Award Winner – who wanted to make robot technology accessible to all by developing small, user-friendly, reasonably priced, flexible industrial robots that are safe to work with. Since the first collaborative robot (cobot) was launched in 2008, the company has experienced considerable growth with the user-friendly cobot now sold worldwide. The company, which is a part of Teradyne Inc., is headquartered in Odense, Denmark, and has subsidiaries and regional offices in the United States, Germany, France, Spain, Italy, Czech Republic, Poland, Turkey, China, India, Singapore, Japan, South Korea, Taiwan and Mexico. In 2017, Universal Robots had a revenue of USD 170 million. For more information, please visit www.universal-robots.comor read our blog at blog.universal-robots.com.