LMI TECHNOLOGIES OFFICIALLY LAUNCHES THE NEXT EVOLUTION IN 3D SCANNING AND INSPECTION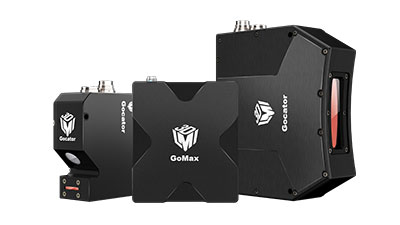 The company continues to advance smart 3D sensor technology with the release of three new products for improved factory production.
Vancouver, BC – LMI Technologies (LMI), the global leader in 3D scanning and inspection, is pleased to announce the official release of three new game-changing products. All three are on display at Vision 2018 (Stuttgart) in Hall 1, Booth #1C14.
Gocator® 2500 Smart Laser Profiler Series - Blazing Speed
With dedicated FPGA processing, advanced optics, and a high speed 2.4 MP custom camera, the Gocator 2500 sensors excel at the scanning and inspection of fast-moving parts in a compact, all-in-one industrial package at rates up to 10 kHz. Users can leverage onboard processing for 3D surface generation, 6DOF alignment, part segmentation, and built-in 3D measurement tools for feature extraction and decision making to build a full inspection solution—from raw image data to 3D results for 100% quality control. In comparison, "non-smart" sensors have to send profile data downstream to PCs or external controllers to carry out 3D surface generation and apply measurement tools, adding data latency and unnecessary cost and complexity.
Gocator® 3504 Smart 3D Snapshot Sensor - Highest Resolution
This stereo snapshot sensor offers point-and-shoot 3D in a compact, industrial form factor that delivers exceptional resolution. The Gocator® 3504 leverages a number of technology advancements in order to achieve a high level of performance achieving 6.7 micron XY resolution with a Z repeatability of 0.2 microns, at an industry leading speed of 6 Hz (with acceleration)––making it an excellent upgrade over traditional confocal or white light interferometry measurement systems.
GoMax® Smart Vision Accelerator - The Next Step In Vision Performance
GoMax simplifies how factories achieve inline production speed by leveraging a new breed of computing based on the NVIDIA TX2 Jetson module. Simply add GoMax to a single or multi-Gocator sensor network to dramatically improve overall scan and inspect cycle times. Inside GoMax is a preloaded Linux OS with the Gocator® Accelerator (GoX) runtime offering 3D point cloud generation and measurement tool processing optimized for execution on the 256 CUDA cores.
GoMax offers a small form factor and a low power usage of only 15 watts. Plus, setup is quick and easy. Just power up, connect via web browser, and activate acceleration for any Gocator® 3D smart sensor to get improved speed.
All three products are now available for order. Email [email protected] to place your order, or write to [email protected] for any questions you might have regarding these or others of our smart 3D products.
About LMI Technologies
At LMI Technologies we work to advance 3D measurement with smart sensor technology. Our award-winning, FactorySmart® sensors improve the quality and efficiency of factory production by providing fast, accurate, and reliable inspection that leverages smart 3D technologies. Unlike contact based measurement or 2D vision, our product removes complexity and dramatically reduces implementation cost.