Linear Air Bearings
Linear Air Bearings
PI USA is a premium supplier of a line of in-house designed and manufactured linear air bearings for precision motion and automation applications,
for industries including semiconductor test & manufacture, photonics, flat panel display test & manufacture, metrology, CMMs.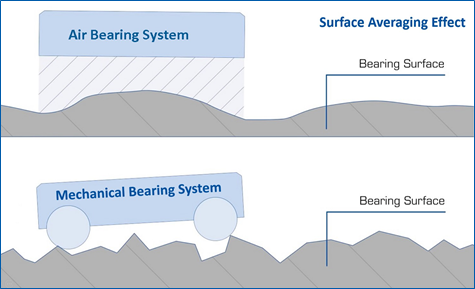 The surface averaging effect allows for improved geometric performance (pitch, yaw, roll, straightness, flatness)
Linear air bearings are available from miniaturized, passive components to motorized multi-axis linear translation stages and large, granite-based gantry linear motion systems.
How Does an Air Bearing Work?
Air bearings glide on a thin film or air. The technology is well established and highly reliable. PI provides a large variety of standard linear air bearings for highly precise linear motion. Linear air bearings do away with the need for mechanical parts such as rollers or balls that are commonly used in mechanical linear bearings. By taking advantage of the surface averaging effect, linear air bearings provide better geometric accuracy (straightness, flatness of motion, pitch, yaw roll), while at the same time keeping precision and performance constant over the life of the application, they are used in. There is no wear and degradation as with conventional mechanical bearings, due to the absence of friction.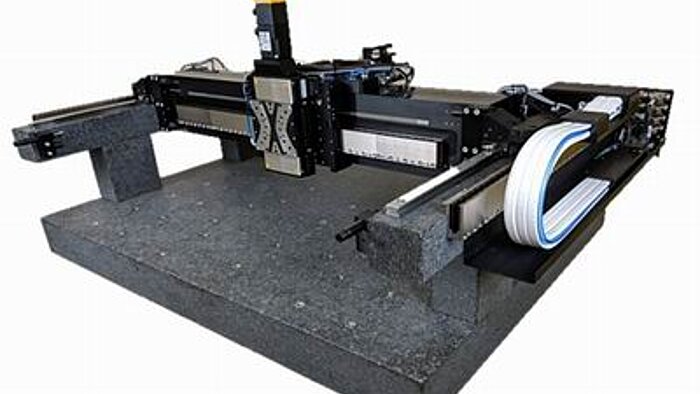 A hybrid air bearing linear gantry stage motion system.
Rotation, too.
Of course, PI also provides passive and motorized rotary air bearings and air bearing tables. More information on air bearings and air bearing stages.

Video: Large Motorized XY-Linear Air Bearing Stage
Video: Compact XYZ-Motorized Linear Air Bearing Stage