Keynote Sessions from Amazon, Cognex, FedEx, Intel and More Highlight A3 Vision Week
Registration is open, and the agenda posted for the virtual conference and exhibits, on June 8-10, 2021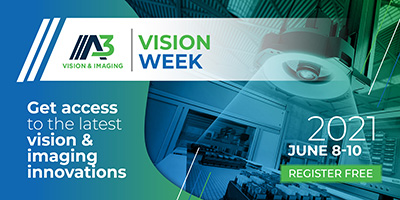 ANN ARBOR, MI – Top vision experts from Amazon, Cognex, FedEx, Intel, NVIDIA, Plus One Robotics, and other industry leaders will be featured at A3 Vision Week, the virtual conference focused exclusively on vision and imaging technology sponsored by the Association for Advancing Automation (A3). The online event is free and runs June 8-10, 2021. Registration is now open.
The three-day conference will feature presentations from more than 30 industry experts, with an emphasis on case studies and end-to-end vision and imaging solutions. Advances in sensors, vision-guided robotics, and AI-enabled vision also will be covered. The full agenda is available online.
"A3 Vision Week is the best opportunity for companies in every industry to get insight to their processes, their data, and to learn how advances in vision technologies will increase productivity and improve product quality," said Jeff Burnstein, A3 President. "The speakers we have during A3 Vision Week will demonstrate how vision and imaging are critical components to a complete automation solution."
Leading vision and imaging companies will offer interactive booths featuring product demonstrations and the ability to text, call, or conduct a video meeting in the virtual sponsor showcase that runs each day.
A3 Vision Week is sponsored by Apera AI, Basler AG, Elementary Systems, IDS Imaging Development Systems, Inc., Midwest Optical Systems, Prolucid Technologies Inc., Smart Vision Lights, TPL Vision, Zebra Technologies, and Theia Technologies.
Expert Keynote Speakers
KEYNOTE ROUNDTABLE: Vision & Sensing in Logistics and E-Commerce
Aaron Prather, FedEx
Erik Nieves, Plus One Robotics
Carl Gerst, Cognex
(Tuesday, June 8: 10 – 11 AM ET)
KEYNOTE: Automate Quality Inspection with Computer Vision
Anant Patel, Amazon
(Tuesday, June 8: 11 AM – 12 PM ET)
KEYNOTE ROUNDTABLE: Intelligent Vision - Machine Learning, AI, and the Factory of the Future
David Austin, Intel
Daniel Bibireata, Landing AI
David Dechow, Integro Technologies
Piyush Modi, NVIDIA
(Wednesday, June 9: 10 – 11 AM ET)
KEYNOTE: How Machine Vision Applications are Advancing AI in Medical Imaging
Stacey Shulman, Intel
(Tuesday, June 8: 11 AM – 12 PM ET)
KEYNOTE ROUNDTABLE: The Future of Vision & Imaging
Darcy Bachert, Prolucid
Eric Danziger, Invisible AI
Greg Hollows, Edmund Optics
(Thursday, June 10: 10 – 11 AM ET)
View the full agenda here.

A3 expects over 2,000 attendees from across the globe to participate in A3 Vision Week, including users of vision and imaging technologies, system integrators, machine builders, OEMs, and manufacturers of imaging technology, collaborative robots, drones, augmented reality systems, and more.
About Association for Advancing Automation (A3)
The Association for Advancing Automation (A3) is the global advocate for the benefits of automating. Members of A3 represent over 1000 automation manufacturers, component suppliers, system integrators, end users, research groups and consulting firms from throughout the world that drive automation forward. A3 hosts a number of industry-leading events, including Vision Week (June 8-10, 2021 virtual), A3 Business Forum (January 31-February 2, 2022, in Orlando, FL), the Automate Show & Conference (June 6-9, 2022, in Detroit, MI), and The Vision Show (October 11-13, 2022).
www.automate.org
For More Information:
Jackie Rose
Association for Advancing Automation
(734) 929-3264