Joseph F. Engelberger, the "Father of Robotics," Turns 90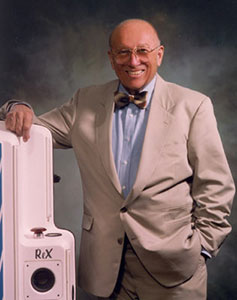 (Ann Arbor, MI, July 24, 2015) – Joseph F. Engelberger, an engineer and entrepreneur who pioneered the robotics field, will turn 90 years old on July 26th. Widely known as the "father of robotics," Engelberger launched the world's first robotics company, Unimation, in 1956. The first industrial robot called Unimate was installed in a General Motors plant in 1961 and revolutionized modern manufacturing processes. Unimate even made an appearance on the Tonight Show with Johnny Carson in 1966. Since then, approximately three million industrial robots have been installed in manufacturing facilities around the world.
Unimation grew into a company with more than a thousand employees before being acquired by Westinghouse in 1982 for $107 million. After the sale of Unimation, Engelberger saw a whole new field for robotics—in healthcare and elder care. In 1984 he formed HelpMate Robotics, initially called Transitions Research Corp. Its goal was to give robots sensory capabilities to work with humans in service activities. HelpMate robots traveled along hospital hallways and in and out of elevators carrying pharmaceuticals and supplies to nurses. HelpMate was acquired by Cardinal Health in 1997. Engelberger's vision for service and mobile robots has paved the way for today's emerging robotics technologies.
"We wish our friend Joe Engelberger all the best for his milestone 90th birthday," said Jeff Burnstein, President of the Robotic Industries Association (RIA). "Joe was instrumental in founding RIA over 40 years ago, bringing together early robotics leaders. We're very thankful for his pioneering role and honor him every year by presenting the Joseph F. Engelberger award to individuals making outstanding contributions to the field of robotics." Since the awards inception in 1977, they have been presented to 116 robotics leaders from 17 different nations.
Recent winners of the Engelberger award include Dean Kamen, founder of the FIRST Robotics competition and Rodney Brooks, co-founder of iRobot and current Chairman and CTO of Rethink Robotics. "Joe Engelberger is such a name in robotics," stated Rodney Brooks after receiving the Engelberger award for Leadership in 2014. "It's a real honor to win an award in his name. He is a monumental figure in the field of robotics."
"Joe Engelberger's invention of the first industrial robot inspired many of us to pursue a career in this amazing field," stated Arturo Baroncelli, President of the International Federation of Robotics (IFR) and also a past winner of the Engelberger award. "Thanks to his effort and passion for technology, we have a strong robotics industry today."
Mr. Engelberger is a World War II Veteran, serving in the US Navy from 1942-1946. A member of the U.S. National Academy of Engineering, Engelberger has received many awards in his career, including the Japan Prize, the American Society of Mechanical Engineers-Leonardo da Vinci Award and the Automation Hall of Fame Prometheus Award. He has authored numerous articles and books, including Robotics in Practice and Robotics in Service. In his honor, RIA will soon be launching a special Engelberger tribute site which will be found at www.robotics.org.
About Robotic Industries Association (RIA)
Founded in 1974, RIA is a not-for-profit trade association dedicated to improving the regional, national and global competitiveness of the North American manufacturing and service sectors through promotion and enhancement of robotics and related automation. RIA represents 340 robot manufacturers, system integrators, component suppliers, end users, consulting firms, research groups, and educational institutions. The association hosts a number of events including the International Collaborative Robots Workshop (October 15, 2015 in Pittsburgh, PA, the National Robot Safety Conference (October 12-14, 2015 in Pittsburgh, PA), the A3 Business Forum (February 3-5, 2016 in Orlando, FL) and the biennial Automate Show & Conference (April 3-6, 2017 in Chicago). RIA also provides quarterly robotics statistics and has a content-rich website, Robotics Online. For more details, visit RIA or call 734/994-6088.
About Association for Advancing Automation (A3)
The Association for Advancing Automation is the global advocate for the benefits of automating. A3 promotes automation technologies and ideas that transform the way business is done. A3 is the umbrella group for Robotic Industries Association (RIA), AIA - Advancing Vision + Imaging, and Motion Control & Motor Association (MCMA). RIA, AIA, and MCMA combined represent some 850 automation manufacturers, component suppliers, system integrators, end users, research groups and consulting firms from throughout the world that drive automation forward.
For more information, please visit our websites: A3 - RIA - AIA - MCMA
Editorial Contact:
Bob Doyle
Director of Communications, A3
Tel: 734.994.6088