item North America Launches New Website
AKRON, Ohio – item North America, which designs and constructs extruded aluminum mechanical solutions, including linear actuators, material handling systems and machinery for a wide range of industrial applications, has launched a new, multi-media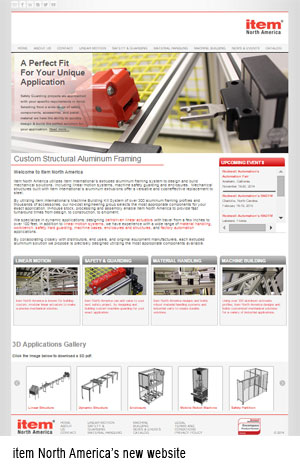 website that demonstrates the company's products and capabilities.
The new website highlights the Akron, Ohio, company's primary production capabilities in linear motion, safety hard guarding, material handling, machine building and stairways and platforms.
In addition to online videos, downloadable 3D PDFs, animations and brochures, the site features direct access to the item International catalog, as well as a downloadable version of the product catalog.
The website provides detailed information on item North America's capabilities in engineering and building a wide range of custom industrial applications, including belt-driven linear actuators, custom enclosures, safety guarding and industrial partitions, assembly lines, material handling carts and industrial workbenches, all using the extruded aluminum profiles and components of item's Machine Building Kit System.
The new site also details item North America's participation in Rockwell Automation's Encompass Product Partner Program, which enables item North America to collaborate with other Rockwell partners to provide a comprehensive portfolio of automation products and services.
"Our new site is designed to provide customers with a greater understanding of the limitless capabilities of our engineering staff to provide creative solutions for their mechanical needs," said President Eveline Nordhauss.
About item North America
Founded in 1996 in Akron, Ohio, item North America was the first North American distributor of the German-made extruded aluminum profiles and components of item's Machine Building Kit System. item North America engineers specialize in creating dynamic applications; designing belt-driven linear actuators with travel from a few inches to over 100 feet. In addition to linear motion systems, item North America offers expertise in robust structures, sub-structures, machine bases, frames, material handling applications, workbenches, special application enclosures and machine safety hard guarding.
Contact:
Richard A. Sabo
Vice President, Sales & Marketing
(330) 945-4500