How to Automate CNC Machines with CNC Robot Arm: 3 Things to Consider

Table of Content
1.Industry Bottlenecks in Traditional CNC Manufacturing
2.Advantages of Using CNC Robot Arm
3.Why Deploy DOBOT CNC Robot Arm
3.1 Product advantages
3.2 Customer value
Deploying a CNC robot arm is a way to optimize modern machining. According to recent stats, the global size of CNC machines is forecasted to achieve $132.93 billion by 2030. Nearly $16 billion every year for eight years, impressive data, isn't it?
While keeping up with the trend of reaching the highest production level, there is always a need to maximize both traditional manufacturing and small-batch production. A CNC machine tending robot will help you combat multiple challenges.
In case you haven't still decided on whether to invest in the automation of a CNC machine, we have prepared a helpful guide for you.
---
1. Industry Bottlenecks in Traditional CNC Manufacturing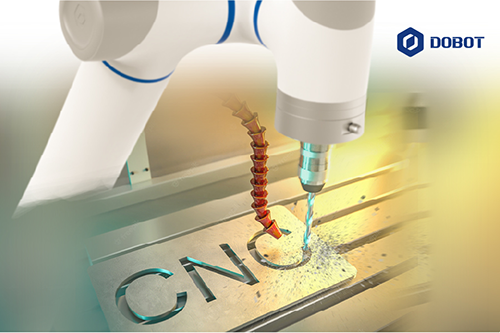 Traditional metal processing plants deploy manual loading and unloading and material flow. Manual work wastes operational time and slows down the entire process of manufacturing. Some bottlenecks also include poor working conditions and noise pollution in the designated area that influence human performance.
The lack of skilled workers leads to the constant OEM's concern, and the growing labor costs might eventually cause a labor crisis, especially now under the multiple circumstances of COVID-19, trade and political wars, etc. The unstable labor environment and disrupted material flow make businesses automate production life cycles in different industries, especially metalworking.
Hence, various manufacturing challenges require CNC automation with CNC robot arms on board. While the world's economic crisis is around the corner with the booming prices for raw materials and lack of components for supply chains, robotic machine tending robot arm might become a powerful solution to fight cumbersome bottlenecks.

2. Advantages of Using CNC Robot Arm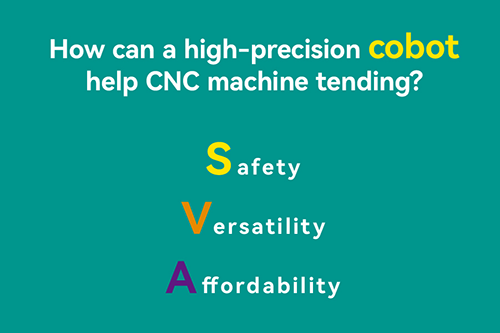 A CNC robot arm is a powerful way to increase operations speed and product quality. Robotic machine tending robot arm assists CNC machine and accurately performs loading and unloading operations.
How can a high-precision collaborative robot help CNC machine tending?
There are multiple safety risks associated with operating nearby a CNC machine. Human operators suffer from the hazardous environment. At the same time, a CNC machine tending robot is safe while working alongside people. Working in a CNC machine environment might have adverse effects on health.
Cobots can be applied in multiple application sets for CNC machines, such as milling, drilling, and others. They can be deployed to perform dirty and dangerous tasks without being bored or exhausted.
CNC robot arm provides affordable price in comparison to industrial robots solution. They are cost-saving and reliable, significantly increasing the variety of options.
3. Why Deploy DOBOT CNC Robot Arm

DOBOT CR series cobot provides robotic solutions for CNC automation. It enhances the reliability of products.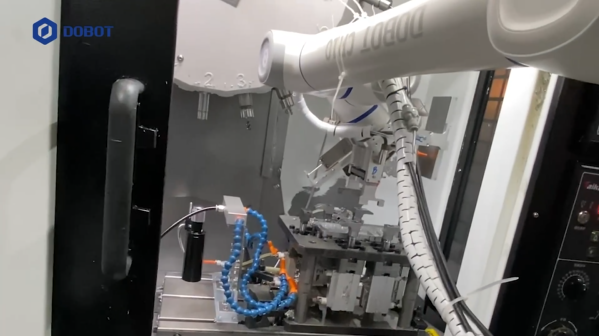 Although efficient work is complex, the DOBOT CR robot arm with AGV can feed multiple CNC machines, effectively reducing labor costs and avoiding large-scale re-engineering of automated lines. It is a safe solution for lightweight production.
With a payload of 10 kg and a 1300 mm reach, the CR10 cobot will be much more convenient for loading and unloading. The 6-axis robot arm CNC price of the DOBOT CR10 is affordable and cost-efficient.
Product advantages:
drag-and-drop teaching pendant
interactive programming, enabling flexible deployment
short debugging time
fast switch between different models of products
Customer value
The DOBOT CR10 robot arm creates extra benefits while automating a CNC machine. The deployment of the CR10 robot arm ensures a high return on investment, saving labor costs, as one cobot allows to switch four human operators into safer and more complex working tasks.

Contact us if you want to learn more about extra opportunities in assisting CNC machines in the metalworking industry.