Furthering Human-Robot Collaboration with Calvary Robotics
By Molly McCarthy, VP Sales and Business Development, Veo Robotics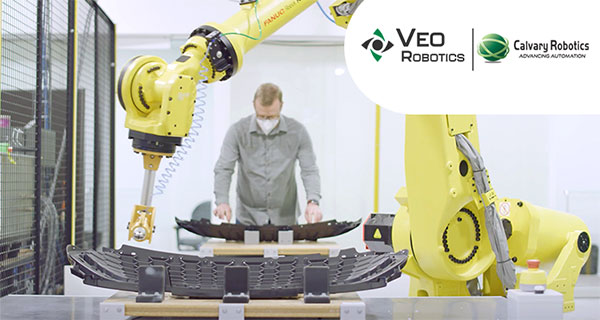 Systems integrators play a key role in manufacturing automation. Manufacturers rely on top systems integrators to provide the expertise and execution necessary to build manufacturing processes that are efficient, repeatable, and reliable.
Veo's flagship product, FreeMove®, is a comprehensive 3D safeguarding system that implements dynamic speed and separation monitoring to allow human-robot interaction with standard industrial robots, bringing the benefits of stronger, faster, larger robots to collaborative applications.
As Veo Robotics takes the next step in our quest to reduce the cost and complexity of human-robot collaboration, we know that strong partnerships with leading systems integrators are crucial to the success of our customers in achieving greater manufacturing flexibility and productivity.
Introducing Our First Certified Systems Integrator
Today, we're thrilled to announce our first certified systems integrator partnership with Calvary Robotics.
Calvary is a 25-year industry leader in the design and development of custom turnkey automation solutions, robotic platforms, and material handling systems. Founded in 1994, Calvary services a range of industries, such as automotive, consumer goods, and food and beverage, to name a few. The team builds their solutions at their 400,000 square foot headquarters in Webster, N.Y., along with a second location in Greenville, S.C., and a third location in Malaysia.
Calvary Robotics will include our flagship product, FreeMove® as part of its solution offering to customers. The Veo Robotics team will provide training and support to Calvary to enable the design of collaborative robotic applications with greatly improved productivity, safety, and ergonomics versus legacy solutions.
This partnership combines Veo's expertise in functional safety, computer vision, and collaborative applications with Calvary's deep engineering and robotics knowledge, experience, and reach. Our customers will benefit from the result: safe, comprehensive, inexpensive human-robot interaction that will give them greater flexibility and efficiency in their manufacturing processes.
This partnership is the first in our certified systems integrator network. We look forward to announcing more soon.