Fast Fiber / Photonics Alignment Engines & Algorithms
Automated Fiber Alignment System Speeds up Test & Production of Photonics, Fiber Optics and Silicon Photonics Chips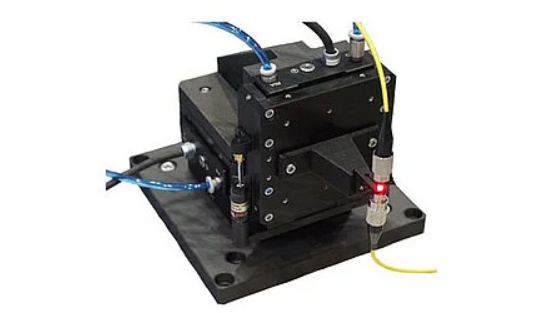 The F-142 Automated Photonics Alignment System, based on Air Bearings
At recent Photonics West and OFC conferences in California, PI unveiled a new compact multi-axis automated fiber alignment stage with powerful algorithms, motion controller, software. The fiber alignment stage is based on friction-free air bearings and linear motors, enabling fast automated alignment of fibers and waveguides. This multi-axis nanopositioning stage offers smooth, continuous motion, with a closed-loop control ler providing nanometer resolution and long-term stability, making it ideal for coupling light into waveguides, fibers, and modern silicon photonics devices.
The alignment system is designed for 24/7 high-throughput test and production applications, with zero-wear air bearings and non-contact linear motors and optical encoders. Unlike conventional ball bearings or crossed-roller bearings, air bearings have no wearing parts and require no lubricants. Moreover, the system generates no particles, making it ideal for clean-room environments. The air bearing/linear motor approach offers virtually infinite life, ensuring a long-lasting alignment system.
While high throughput and high-quality results in modern fiber alignment and silicon photonics alignment processes require precision motion mechanics such as the F-142 alignment system, it's not the only factor to consider in alignment applications. The control software that optimizes the motion may even be more important. Improved alignment quality and higher throughput are achieved through faster and more effective alignments, leading to more efficient testing and production.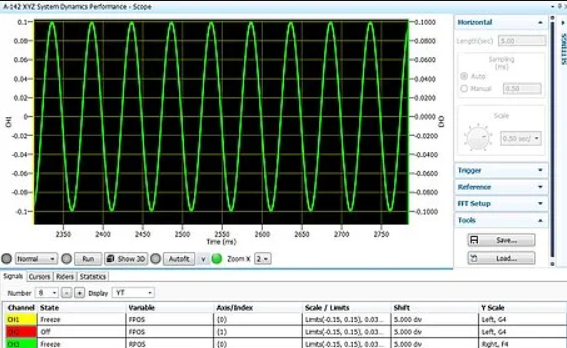 F-142, single axis scan performance, at 20Hz, 200µm peak-to-peak
High Performance Fiber and Photonics Alignment Algorithms
The motion and alignment controller based on ACS technology includes ultra-fast scan and alignment algorithms, such as modified sine wave raster scan routines and circular scan routines. These are for first light finding. For power optimization, a digital hill-climb gradient search is available. The fast scans are utilized not only to find first light, but also prevent the gradient search from locking onto a spurious local maximum. With this advanced technology, the alignment system can handle various profiles, including gaussian and top-hat profiles. Alongside these features, the package includes MMI Application Studio, a user-friendly tool for configuring, tuning, programming, and characterizing motion performance.

Video: F-142 XYZ fiber / photonics alignment system showing off its dynamic capabilities with long travel, multi-axis moves, followed by a large area spiral scan and align routine.
Utilizing ACS host application libraries for popular platforms such as C/C++, COM, .NET, Python, MATLAB, Linux, and low-level socket communication, comprehensive and user-friendly software packages save time during integration, significantly reducing time to market. The Motion Simulator is an effective tool that accelerates development through controller level onboard routine programming and host-level interfacing before hardware delivery.
In addition, PI provides open-source graphical application examples in major programming languages, including LabVIEW, Python, C#, and Visual Basic.
6-DOF Fiber Alignment Engines / Photonics Alignment Engines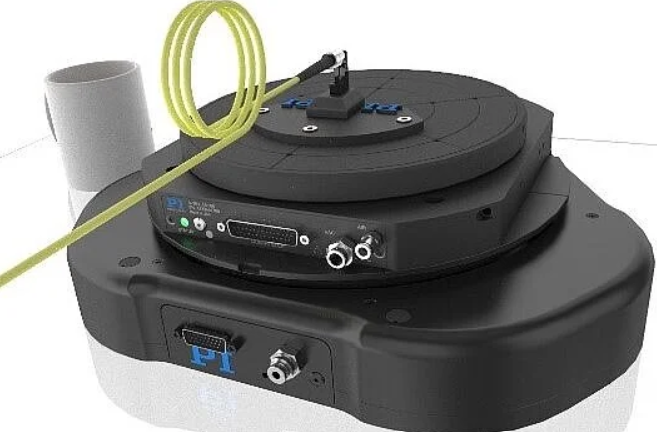 The F-716, 6-DOF automated photonics alignment system, based on air bearings

The video shows the multi-axis photonics alignment stage pivoting around the tip of the ferrule.
For photonics applications that require 6-DOF alignment, a six-axis air bearing alignment engine with controller and software is also available, as well as the high performance hexapod-based fast multi-channel photonics alignment systems (FMPA).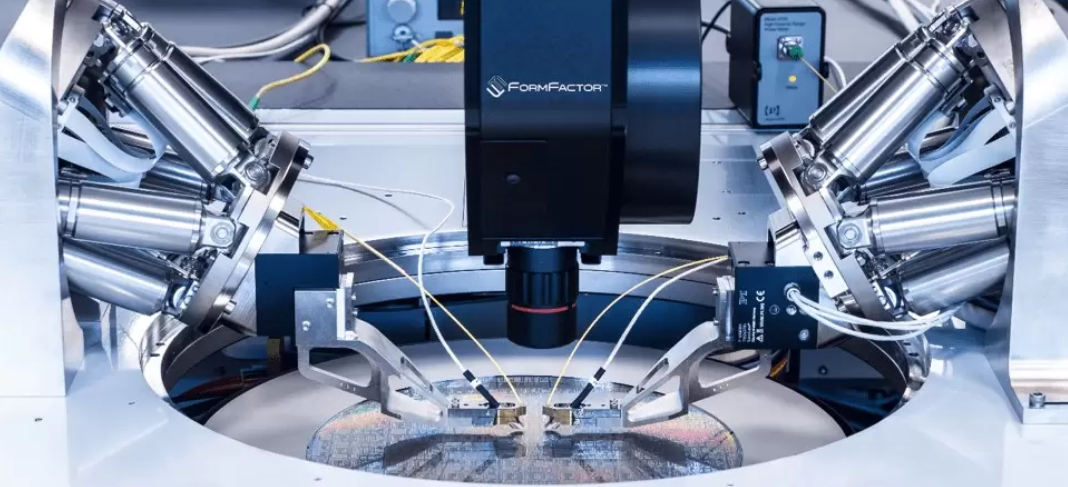 PI's F-712 double-sided photonics alignment system for high throughput silicon photonics alignment provides 2x9 axes of precision motion. The hybrid approach using hexapods for pre-alignment and the ultra-responive piezo scanners for the scan and gradient search of SiP devices in wafer probers. The image shows the alignment system mounted on Cascade Microtech's pioneering CM300xi photonics-enabled engineering wafer probe station. PI's Fast Multichannel Photonics Alignment systems provide high throughput, wafer-safe, nano-precision optical probing of on-wafer Silicon Photonics devices. (Image: Cascade Microtech, a FormFactor company)

Video: Photonics Device Sequencing System for high Throughput Test / Manufacture of LIDAR, Lenses, Lasers, Quantum Computing