Direct Recruiters Celebrating 35 Years in Business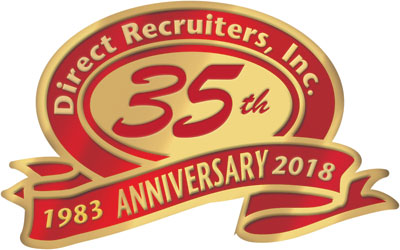 Solon, Ohio – Direct Recruiters, Inc. (DRI), Executive Search Firm, is proud to announce their 35th Anniversary. They plan on a full year of celebrations to show appreciation for their clients, employees, and vendors.
Founded in 1983, DRI started as an employment agency serving the local Cleveland, OH market. Over time, DRI evolved into a top International Executive Search firm comprised of over forty experienced Recruiters, Project Managers, Researchers and Operations professionals. Initially DRI focused on placing professionals in the Supply Chain Industry with a special emphasis on the Automatic Identification and Data Capture industry. Soon after being recognized as a leader in the Supply Chain space, DRI applied the same formula to various other vertical markets and began a hyper-growth phase which continues today.
With Dan Charney at the helm as President & CEO, DRI has added a large number of practice areas including: Automated Packaging & Material Handling Equipment, Automation & Sensors & Controls, Consumer & Professional Technologies, Cybersecurity, Electronic Security Technology, Energy & Sustainability, Food Service & Processing Equipment, Government Technology, HVAC/R, Healthcare IT, Labels, Life Sciences, Military Transition, Military Leadership Excellence, Pharmaceutical Manufacturing Processing Equipment, Plastics & Flexible Packaging, Robotics, Supply Chain & Logistics, and Vehicle Technology. DRI also launched a sister company, Direct Consulting Associates (DCA), back in 2011. DCA is the contract staffing arm of the business that has gained a substantial reputation for delivering exceptional Healthcare IT talent on a contract basis.
According to Mr. Charney, "Our success can be attributed to the combination of staying current with the ever-changing job market, taking risks by entering emerging markets, maintaining long-standing client relationships, and attracting some of the best talent in the search industry. We also owe a tremendous amount of credit to Sheldon Myeroff, our Founder. Under his direction and leadership, the company flourished. He inspired us through his actions and words to believe in creating something great. We would not be where we are without our team of Partners and Associates who are truly our backbone. They live to our core values every single day and are driven to be the number one search firm in the country that offers customized employment solutions for our clients. We are so proud of what we have built at DRI and the fact that we're still growing strong after 35 years in the business."
DRI has helped thousands of talented people enhance their careers and at the same time helped thousands of clients achieve their corporate goals. They have also been recognized for their work. In 2017 alone, DRI was honored with 7 prestigious local and national awards including Inc. Magazine's Best Workplaces, Inc. 5000, and Staffing Industry Analysts' Top 100 Search Firms. DRI also thinks it's important to give back. They make a difference in their community through an annual toy drive for children in area hospitals, the annual 5K Race for the Place supporting cancer patients and their families, and collecting food donations for area food banks.
About DRI
Since 1983, Direct Recruiters, Inc. (DRI) has been recognized as the relationship-focused search firm that assists top-tier organizations with recruiting, acquiring, and retaining high-impact talent for mission-critical positions. Visit us at www.directrecruiters.com and follow us on Twitter @DRI_Inc.