Custom bearings for the robot arm
Robotics is a rapidly growing industry that has increased in complexity and scale. Designing robotic arms requires the use of high quality and reliable components to ensure the system works efficiently and safely. One such component is bearings, which provide support and reduce the amount of friction between moving parts. CW Bearing offers a wide selection of bearings for robots, which can be customized to manufacturers' requirements, allowing them to create highly reliable robot arms.
Articulated robots have various axis configurations, with many of them featuring six axes. Robots with six axes have more versatility and flexibility, allowing them to complete a wider array of tasks than robots with fewer axes. CW Bearing has offerings across each of the six axes.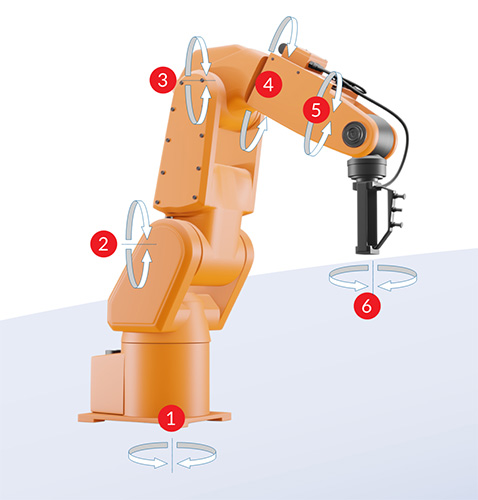 Axis 1
This axis, located at the base of the robot, allows the robot to rotate from left to right.
Due to the amount of load carrying demands and high tilting ability, our rotary table bearings, cross roller bearings, and double row angular contact ball bearings are most suitable for Axis 1.
Axes 2-4
Axis 2 controls the lower arm of the robot and allows it to extend forward and backward. Axis 3 raises and lowers the robot's upper arm and Axis 4 rotates the robot's upper arm (wrist roll).
Due to the smaller installation space available, but load carrying and rigidity demands in these areas, our cross roller bearings or thin-section bearings are most suitable in these axes.
Axes 5-6
Axes 5 and 6 are located in the wrist of the robot, with Axis 5 raising and lowering the wrist, and Axis 6 rotating it. Because of the smaller diameter of the wrist, our thin-section bearings or double-row angular contact ball bearings are the best choice here.
Demand for our bearings has increased over the last couple of years, hitting double- and triple-digits across the different bearing types. Our customers have recognized us for our quality, flexibility, and delivery time. They have found that our lead times are up to two to three times faster than our competitors.
If you are looking for a new partner to deliver quality ball or roller bearings to you in a timely manner, the CW team is available to develop a custom solution for your application requirements. Reach out to us at info@cwbearing.com or visit us online at cwbearing.com.
About CW Bearing
CW Bearing is a rapidly growing bearing company specializing in the development and production of a wide range of premium ball and roller bearings for robotics and automation, electric motors, gearboxes, all-terrain vehicles, cycling, automobiles, power tools, and other industrial sectors. Founded in 1984, the company has offices in the US, Europe, Asia, and Latin America.
Among CW Bearing's customers are the well-known automotive OEMs, Tier 1 suppliers, and many other sub-suppliers. In addition, CW bearings are installed by well-known OEMs in a wide range of industries, such as robotics and power tools.