Bosch Rexroth - EasyHandling Catalog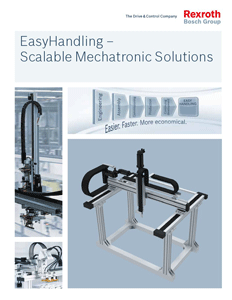 Rexroth's EasyHandling system is unique: More than a modular set of mechanical components, it completes the evolutionary transition from high-quality electrical and mechanical elements to a comprehensive system solution built on standardized interfaces and interoperable controls.
EasyHandling has been developed based on decades of experience by Rexroth engineers designing and implementing mechatronics solutions for a wide range of industries. With EasyHandling, it is possible to reduce engineering, assembly and commissioning time by up to 80 percent.
The new brochure provides a clear breakdown of the key features, components and resources available from Bosch Rexroth that handling systems engineers can use to bring handling systems from the drawing board to the factory floor quickly and cost-effectively
Rexroth's easy-to-follow sample diagrams show a wide range of handling and gantry configurations. A detailed selection guide for linear modules, an explanation of the three levels of Easyhandling resources, and overviews of online engineering tools that are part of the platform, are also included.
With this brochure, engineers designing virtually any type of handling solution, from simple single axis with slide drive and motor configurations to complex Cartesian systems, will have a complete appreciation for the advantages Rexroth's EasyHandling solution offers for faster and more effective system design and implementation.
Bosch Rexroth AG is one of the world's leading specialists in the field of drive and control technologies. Under the Rexroth brand name, the company supplies more than 500,000 customers with tailored solutions for driving, controlling, and moving. Bosch Rexroth is a partner for Mobile Applications, Machinery Applications and Engineering, Factory Automation and Renewable Energies. The company provides customized solutions tailored to the needs and specifications of each individual market. As The Drive & Control Company, Bosch Rexroth develops, produces, and sells components and systems in over 80 countries. As part of the Bosch Group, Bosch Rexroth and its 38,400 associates generated approximately 6.4 billion euros ($8.9 billion) in revenue in 2011.
In the U.S., Canada and Mexico, the Bosch Group manufactures and markets automotive original equipment and aftermarket products, industrial drives and control technology, power tools, security and communication systems, packaging technology, thermotechnology, household appliances, solar energy, healthcare telemedicine and software innovations. Having established a regional presence in 1906, Bosch employs over 22,500 associates in more than 100 locations, with sales of $9.8 billion in fiscal year 2011, per preliminary figures.
The Bosch Group is a leading global supplier of technology and services. According to preliminary figures, more than 300,000 associates generated sales of 51.4 billion euros ($71.5 billion) in the areas of automotive and industrial technology, consumer goods, and building technology in fiscal year 2011. The Bosch Group comprises Robert Bosch GmbH and its more than 350 subsidiaries and regional companies in some 60 countries. If its sales and service partners are included, then Bosch is represented in roughly 150 countries. This worldwide development, manufacturing, and sales network is the foundation for further growth. Bosch spent more than 4 billion euros ($5.5 billion) for research and development in 2011, and applied for over 4,100 patents worldwide. With all its products and services, Bosch enhances the quality of life by providing solutions which are both innovative and beneficial.