Automate 2015 to Host International Symposium on Robotics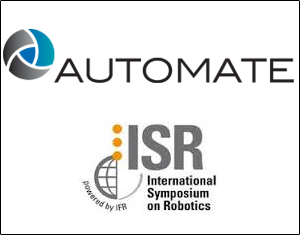 (Ann Arbor, Michigan, USA) The Association for Advancing Automation (A3) announced today that Automate 2015 will host the International Symposium on Robotics (ISR). Automate 2015, North America's broadest automation solutions trade show and conference, is being held March 23-26, 2015 in Chicago.

Sponsored by the International Federation of Robotics (IFR), the ISR is an annual event that is hosted all over the world, bringing new global insights on the latest in robotics applications and research. It has not been held in the U.S. since 2011. The ISR will be fully integrated into the Automate 2015 conference sessions, allowing all participants to learn about the newest developments in robotics, machine vision, imaging, motion control and other automation technologies covered at Automate. The ISR will also include a gala dinner for the Engelberger Robotics Awards, the industry's highest honor.

"We are honored to be selected to host the 46th ISR in conjunction with Automate 2015," said Jeff Burnstein, President of the A3. "ISR attendees will have the opportunity to see the latest robotics and automation technologies, learn about cutting edge research, and gain practical applications expertise."

Speakers still have the opportunity to submit abstracts to speak at the ISR/Automate 2015 Conference. "We're looking for experts in robotics, vision, motion control, assembly automation, sensors, test and measurement, systems integration and related areas to help educate our audience with practical information that addresses their specific challenges," added Burnstein. Abstracts for non-commercial conference presentations can be submitted here . The deadline to submit an abstract is September 30, 2014.

The Automate 2015 trade show accompanying the conference was recently named one of the "Top 10 Manufacturing Shows" in the United States. New and returning exhibitors have already secured over 130% of exhibit floor space compared to the last show in 2013. For more information and details about Automate 2015, please visit www.automateshow.com or contact James Hamilton at jhamilton@a3automate.org, 1 734-994-6088. Automate 2015 will be collocated with ProMat 2015, North America's leading warehousing and distribution show, sponsored by MHI.

About the Organizer
Automate is organized by the Association for Advancing Automation, the global advocate for the benefits of automating. A3 promotes automation technologies and ideas that transform the way business is done. A3 is the umbrella group for Robotic Industries Association (RIA), AIA - Advancing Vision + Imaging, and Motion Control Association (MCA). RIA, AIA, and MCA combined represent over 780 automation manufacturers, component suppliers, system integrators, end users, research groups and consulting firms from throughout the world that drive automation forward.
For more information, please visit our websites: A3 - www.a3automate.org. RIA - www.robotics.org. AIA - www.visiononline.org. MCA - www.motioncontrolonline.org. Automate Show and Conference information can be found at www.automateshow.com. To reach Association Headquarters, call 734-994-6088.
Contact:
Bob Doyle
Director of Communications
(734) 994-6088