Vision-Based Track and Trace Delivers Profits, Product Integrity
POSTED 12/10/2018
 | By: Winn Hardin, Contributing Editor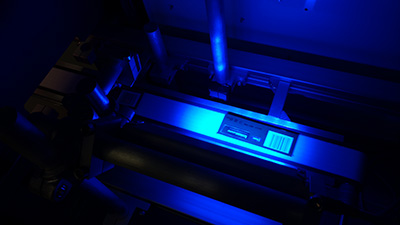 The Simplimax® vision system reads lot, date, and UPC on food cartons. Image courtesy of i4 Solutions, LLC.
Twice this year, the U.S. FDA has warned consumers to avoid eating romaine lettuce because of E. coli outbreaks. That's because there was no way to easily or quickly detect where the contaminated lettuce was coming from. The Produce Traceability Initiative, sponsored by a group of leading produce suppliers, aims to curtail recalls by achieving supply chain–wide adoption of electronic traceability of every case of produce.
Walmart is leading the way by asking produce suppliers to embed a series of information into their bar codes, including lot number, harvest date, pack date, best-before date, and specific growing area. Track-and-trace solutions using machine vision can read 1D and 2D bar codes, helping pinpoint outbreaks and saving retailers from having to remove thousands of dollars of produce from their shelves.
Vision-based track-and-trace systems, which are also used in the pharmaceutical and medical device industries, automotive manufacturing, and general packaging, represent big profit potential. According to a report from MarketandMarkets, the track-and-trace solutions market is projected to reach $3.93 billion by 2023 at a CAGR of 18.9 percent. Machine vision OEMs and integrators are capturing this market with a variety of solutions.
Food for Thought
The food and beverage packaging industry remains a top adopter of machine vision track-and-trace systems, primarily driven by recalls such as those of romaine lettuce and food products containing allergens.
"Manufacturers need lot traceability to determine the point of origin of all ingredients, as well as where they are sent," says Pierantonio Boriero, Director of Product Management, Matrox Imaging. "Version control details the historical view of the recipe for each finished product lot to provide a traceable trail back to the original ingredients, their source, and the precise date and time they were added to the lot."
One traditional use for machine vision is verifying the contents inside food packaging, a method that i4 Solutions, LLC, has perfected over the last dozen years. The company's Simplimax® automated package inspection system ensures that contents, such as multiple food items going into a kit, are placed in the correct package. The vision system uniquely identifies the packaging, whether it contains a product code number, a photograph of the food, or highly stylized text indicating the flavor of the contents.
Recently, machine vision has also been used "to capture information that shows the lot and source it came from and where it is at in the manufacturing process — for example, whether it's just entering the plant or going to the shipping department," says Brian Durand, President of i4 Solutions. "If a recall does happen, we can minimize its impact by knowing what was in that package and where it came from."
Improvements to the Simplimax system include support for higher resolution cameras operating at higher inspection rates and interfacing with fixed barcode scanners from other manufacturers. The company has added a technology called SoloPass™, which prevents operator setup problems.
Even with the improvements, a big selling point for Simplimax remains its ease of use — another growing requirement among customers. "With a little bit of training, an operator can easily configure a new product type or accommodate a design change," Durand says.
Keeping Medical Devices on Track
Like food packaging, pharmaceutical product manufacturing focuses on product integrity. In an increasingly global market, tracking and tracing products is vital to regulating and assuring quality product, especially as ingredients in a single pill might originate in multiple countries, all with unique regulatory codes.
When it comes to medications, the U.S. Drug Supply Chain Security Act involves product tracing, verification, and identification, with requirements for an electronic, interoperable system to trace products at the package level by 2023.
On the medical device side, the market for surgical instrument tracking is projected to grow at 18.6 percent over the next seven years, buoyed by increasing incidences of instrument misplacement and hospital-acquired infections, according to Grand View Research.
Machine vision is often used to track unique device identifiers (UDIs). The unique device identification system tags medical devices through their distribution and end use using codes that are readable by both humans and machines. UDIs includes information such as manufacturing dates, batch and lot codes, serial numbers, and expiration dates to ensure traceability and verify that all items contained within a kit are correct. But traceability is more than just track and trace; it also includes control and chain of custody, says Bradley Weber, Product Marketing Manager at Datalogic.
Smaller and smaller components are starting to be tracked. "Every screw in a joint replacement kit, for example, will eventually have a UDI," Weber says. "Without disrupting a surface finish, you can use the newest laser markers to print a code so small that you can barely make it out with the eye. Obviously, you have to have readers at higher resolution to be able to read those marks and track the items all the way into the body."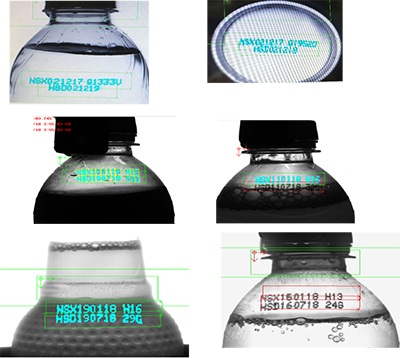 Examples of the varieties of packaging, including manufacturing date and expiration code, that pass on a single production line. Image courtesy of Matrox Imaging.
Implementing Advanced Technologies
Machine vision companies are refining their products to keep up with increasing demand for track-and-trace solutions. Datalogic has developed an advanced OCR tool to read less-than-perfect characters, including those with a low gradient or low contrast between the letters and background. Weber sees more improvements to advanced OCR using deep learning but cautions that it is an assistive technology rather than a replacement technology.
Matrox sees the demand for track and trace manifesting as add-ons to larger vision systems. "Customers are looking for greater integration, with platforms and hardware components like smart cameras that can do more than simply read code," Boriero says. "The technology is there. Now it is a question of augmenting the functionality of existing tools and leveraging these to create new track-and-trace solutions."
Matrox's existing tools include SureDotOCR®, designed to address the challenges of reading dot-matrix text produced by ink-jet printers, as well as String Reader, which uses geometric features to quickly locate and read text in images where solid characters are separated both from the background and from one another.
"The market is poised to exploit technological advances," Boriero says. "Customers want comprehensive, cost-effective solutions that provide reassurance of product integrity and safety."
What the Consumer Wants
Whether they want to know about food allergens or a shipment from a retailer, consumers are driving the demand for better track-and-trace solutions. Datalogic's Weber cites Amazon as an example of the future of track and trace. "If you receive an item that is damaged, you have to go through all of the trouble of putting the object back in the box, taping the box shut, and sending an email to get a return label," Weber says. "And because we are humans, we want it right, and we want it now."
That's why more track-and-trace solutions are becoming imaging-based. "Instead of just reading a bar code, machine vision allows us to look at the integrity of the box or for special graphics, such as the hazmat warning or 'fragile' symbol," Weber says. "That tells Amazon to handle the box in a special way to keep it facing up at all times while automation is handling it."
Imaging-based systems will eventually allow a consumer to see a picture of an object when it comes from the manufacturer into the warehouse before it is even boxed. "And if that object appears damaged or the box has a smashed corner or open lid, your package can be routed for a second inspection to ensure that it isn't damaged when it arrives on your doorstep," Weber says. Only time will tell if big retailers see a cost benefit in adopting such practices.
As consumers and global regulatory bodies increase their calls for complete transparency in the handling of products, machine vision companies are poised to provide reliable, cost-effective, and easy-to-use track-and-trace solutions.