Trends in End-of-Arm Tooling
POSTED 11/17/2023
 | By: Emmet Cole, A3 Contributing Editor
From grippers and paint spray guns to dispensing and deburring end effectors, end-of-arm tooling (EOAT) is a vital component of industrial automation. Acting as the point of contact between automation and the physical world, EOAT is where the rubber meets the road, figuratively speaking; where robots physically manipulate objects and materials to help create a finished product.
EOAT can take the form of two-fingered grippers helping with a CNC machine tending application or a sanding end-effector that's used to ensure consistent product quality over time. The large suction grippers often seen in automated palletizing tasks are another form of EOAT often seen in warehouses and manufacturing facilities worldwide.
A3 member companies know a thing or two about EOAT, including the most important market and technology trends to watch.
Adoption drivers
On the market side, labor shortages are the most important trend driving automation and EOAT adoption but they aren't the only one, says Cissi Schaffer, CEO of Applied Robotics.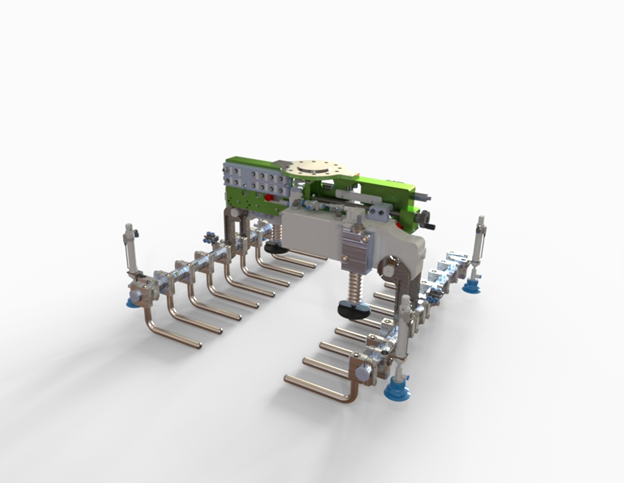 "A lot of people are retiring. And the diminishing number of younger, more tech-savvy workers entering the workforce today just don't want to do certain low-paying manual jobs. At the same time, thousands of small-to-medium size companies are exploring automation for the first time, which is driving demand from new directions," explains Schaffer.
Applied Robotics has seen a "huge" increase in demand for its deburring and finishing tools in the past year, which reflects the impact of labor issues on the ground, Schaffer notes.
"Deburring and finishing are the jobs that companies are struggling to fill the most. They are dull, dirty, and dangerous and nobody wants to take that work on. Today, companies of all sizes are turning to automation to solve this problem," she says.
The labor crisis is so severe that it has forced fundamental changes in the way automation return on investment (ROI) is thought about, says Brian Craig, electrical designer and lead robotics programmer at BMG.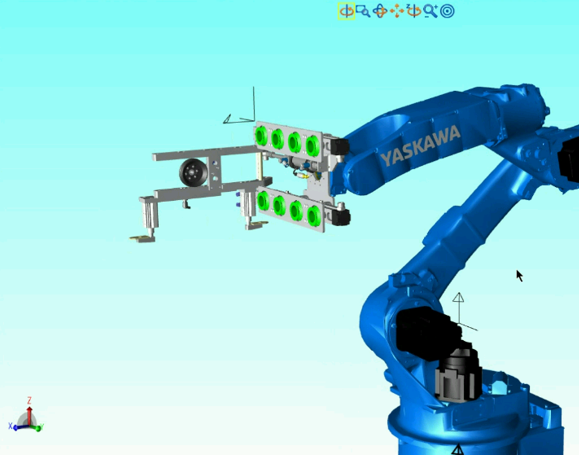 "The ROI for buying automation has transformed over recent years. Before, it was all about cost savings due to labor replacement. Today, the main question for manufacturers is 'How do I keep this line running?' This is a major shift, not just in relation to EOAT, but across all automation investments," says Craig.
Smarter, More Flexible EOAT
Today's customers want EOAT that is both smart and flexible, a trend that's driving development at EOAT specialist companies, says Applied Robotics' Schaffer.
"Our customers want the flexibility to be able to work with different kinds of materials and to be able to tackle a wide range of different tasks all with the same EOAT. They also want a quality product. Smart EOAT boosts quality by providing the information needed to maintain the cell effectively," says Schaffer.
There is a major trend towards electric EOAT because of the intelligence it can provide, says Kristian Hulgard, general manager - Americas at OnRobot.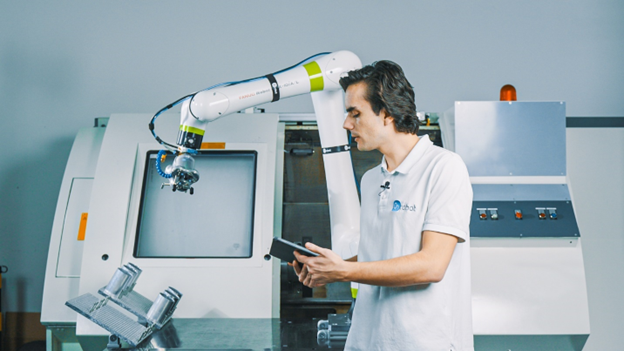 "Electric EOAT can provide real-time data, enabling you to answer questions like 'Have I grabbed the part correctly? What is my uptime and downtime? What size is the part I'm gripping?' and 'What's the Overall Equipment Effectiveness (OEE)?' All of this information is available with electric EOAT, making it appealing to a lot of manufacturers."
Ease of Use
Increasing usability is another critical trend, adds Hulgard.
"Thanks to recent software developments, entire applications can be deployed without any programming knowledge being required on the part of the end-user. This slashes deployment time, not just for your EOAT but for the complete cell. Today, EOAT and robots can be seen as 'one' on the software side in ways that just haven't been possible before now," he says.
Hulgard expects this trend to continue, with software growing more sophisticated and supporting more hardware. Although a few years out, eventually deploying automation will be "a plug-and-play-type experience."
"No matter what type of application you want to install, the software will be able to handle it. And this will require no expertise on the part of end users. This is the direction automation deployments, including EOAT, are going," says Hulgard.
Simulation software
Simulation software is seeing increasing use because it enables engineers and integrators to quickly test out their EOAT design in simulated environments before deploying it in the real world. It also enables smart approaches to robot programming, says BMG's Craig.
"Back in the old days, if you were designing a cell for automated box assembly, for example, you would have to teach the robot every position for every product that you planned to run. Using a combination of simulation software and some math on my side, I can visualize and create a program that will run effectively across a wide range of boxes. The operator has no teach points to worry about, all they need do is input the box size and math takes care of the rest," explains Craig.
Rising expectations
Price is always an important factor, but today's customers are most concerned about EOAT that is flexible, smart, and of proven quality, says Applied Robotics' Schaffer.
"Customers need to know they are getting a quality product, great service, and excellent lead times. With this in mind, we developed a palletizing line that includes EOAT along with sensors and other technologies to enable companies to deploy advanced palletizing automation quickly and effectively," explains Schaffer, noting that the key design challenge for EOAT developers is getting that balance right between providing standardized and customized systems.
"Standardized components mean reduced deployment times and costs, quick handling of spare parts, and easy scalability. For example, Applied Robotics provides a base frame built from standardized components, but we allow for a huge amount of customization with a wide variety of grippers, EOAT, sensors, and other technologies," explains Schaffer.