Trends and Lessons From the 2021 Machine Vision Market
POSTED 12/10/2021
 | By: John Lewis, Contributing Editor
Every year for close to 40 years, machine vision users and systems integrators have been leveraging better imaging, optics, illumination, and software. And 2021 is no exception. Even though machine vision is a relatively mature technology, decreasing component, software, and engineering costs, combined with increasing ease of use and application expansion, continue to drive healthy revenue growth for component and system suppliers serving the machine vision market.
Compared to 2020, the robot and machine vision markets made substantial gains in the second quarter of 2021 according to a recent Association for Advancing Automation (A3) report. While robot orders in Q2 2021 were up more than 67% compared to Q2 2020, the North American machine vision market grew by 26% to $764 million. More than half of the robot orders came from non-automotive industries, including metals (up 99% over Q2 2020), semiconductor and electronics/photonics (up 62%), plastics and rubber (up 51%), food and consumer goods (up 51%), and life sciences/pharmaceutical/biomed (up 21%).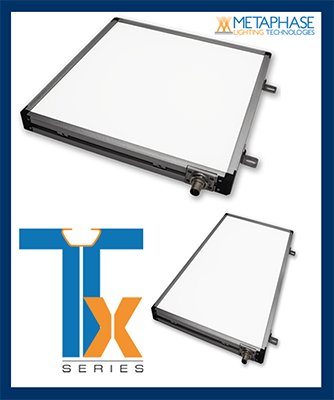 In addition to the large increase in robot orders, A3's report showed record increases for the machine vision and motion control and motor markets over Q2 2020, and from January through June 2021, the North American machine vision market grew 18% to $1.5 billion, which is the best start to a year on record.
Machine Vision Adoption Gains Momentum
The COVID-19 pandemic seemed to accelerate adoption of machine vision technology in 2021. As businesses rushed to bolster digital infrastructure to support remote workers, manufacturers accelerated adoption of automation and machine vision to keep operations running as efficiently as possible and to keep up with increasing demand. Increased online purchase volumes propelled a steep rise in logistics-related applications. These included imaging systems used in retail distribution centers and automated warehouse storage and retrieval systems, as well as at manufacturers of PPE-related items such as face masks, face shields, protective garments, and respirators.
"Due to labor shortages, we're seeing a significant increase in companies that want to automate, with the ultimate goal of something as close to a lights-out manufacturing process as possible," says Mark Kolvites, senior technical sales manager at Metaphase Technologies Inc. "Due to supply chain issues, companies want to be less reliant on off-shore suppliers, and in order to meet demand, they need to automate the inspections and visual portions of the product fabrication."
Companies aren't looking to replace people. It's just that they can't find enough of them as they increase production capacity due to greater demand. Automation technologies such as machine vision have helped manufacturers meet demand and continue to grow. Edgewater Automation control design engineer Dan Rutkowski confirms this, noting that in the past year, the designer/builder of custom automation equipment has done a lot more jobs incorporating machine vision.
"There's definitely no shortage of work for us," Rutkowski explains. "Compared to 2020, we've more than doubled our business, as a lot more of our customers, struggling to find people and meet increased demand, see the value of investing in automation and machine vision."
Vision Application Base Expands
Accompanying the recent double-digit growth in the North American machine vision market, one of the most significant and overarching trends this year is the ever-expanding application base in just about every sector. These days, industrial automation and machine vision technologies don't just replace people performing error-prone manual assembly and inspections. Rather, they enable new products that are more complex and have tighter tolerances, and therefore require automated inspection.
Automation and machine vision technologies also improve operational efficiency and productivity, reduce production costs, and expand worker capabilities. Austin Storm, controls engineer at Edgewater Automation, agrees, noting, "Many applications are beyond the capabilities of people, and the vision systems we're working on are becoming more and more complex, sometimes trying to find defects on parts that can't even be seen with the naked eye."
Applications involving complex parts and defects that are too small for people to see aren't the only things driving expansion of the application base. Also important are new types of inspection that can be readily accomplished with nonvisible industrial machine vision applications. As is typical, the number of viable SWIR, hyperspectral, and multispectral applications has increased as the cost of the technology has decreased and as camera resolutions and ease of use have improved.
Consequently, this year there's been a significant increase in such applications as they move from research experiments into real-world industrial applications, such as detecting opaque container fill levels and epoxy presence/absence using SWIR imaging.
"Over the past several years, we've all witnessed a steady increase in such applications," says Kolvites, "but there's been a steep increase in interest this year for not only UV-fluorescence but also IR, SWIR, hyperspectral SWIR, and hyperspectral VNIR in industrial machine vision applications."
While ongoing advances in every area of machine vision technology continue, a few trends are of particular interest this year due to their value in real-world applications. These involve high-speed, high-resolution cameras, optical components and advanced illumination, and deep learning and other advanced software.
High-Resolution Cameras, Optics, LEDs, and More
Manufacturers continue to develop image sensors with higher resolution and faster frame rates. In turn, camera manufacturers leverage the latest sensor developments and improvements in camera design, helping machine vision system developers and integrators create faster, more flexible, and more capable imaging systems.
With higher camera resolutions comes the need for higher-quality, larger-format optics, which are readily available, with options including embedded liquid lenses for auto-focusing systems. Optics for nonvisible wavelengths enable new ways to detect things with specialized imaging using wavelengths that range from the UV through the IR bands.
LED illumination products, critical to all machine vision applications, now come in a wide variety of wavelengths and form factors. They feature increased flexibility, with tunable angles and additional wavelengths, more consistent spectral response, and even programmable sources with embedded controls. The practical value here is that machine vision developers and systems integrators now have more choices to enable more complex applications.
"An important enabler is the emergence of up to 100 G interfaces as well as the recently updated CoaXPress 2.0 interface and even PCI interfaces," says David Dechow, principal vision systems architect for Integro Technologies. "The great variety of mature technologies that deliver a high level of reliability, flexibility, and ease of use, and with broader technology compatibility mostly driven by rapidly developing standards in the industry, benefits of all of us who work with machine vision technology."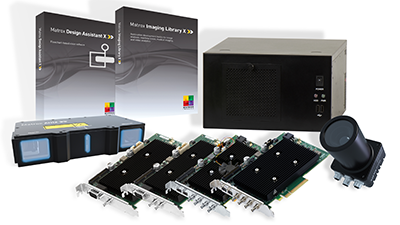 Deep Learning and Easier Integration
Deep learning offers the advantages of traditional rules-based machine vision systems, with the judgment that human inspectors bring, but in a semi-automated fashion that requires continuous optimization. The technology is helping machine vision expand into new industrial applications. For machine vision users and integrators, deep learning is very well indicated for applications where subjective decisions need to be made, similar to human inspection, particularly where the identification of features is difficult due to the complexity or variability of the image.
"We have a lot more activity this year with deep learning applications, and although still in the experimental or feasibility stages, we are confident these will come to fruition in the near future," explains Sam Lopez, senior vice president of sales and marketing at Matrox Imaging. "We had all these existing customers who had shelved a lot of vision projects that they weren't able to solve with the traditional approaches. But now they have pulled those projects off the shelf, dusted them off, and started looking at them again from a deep learning perspective."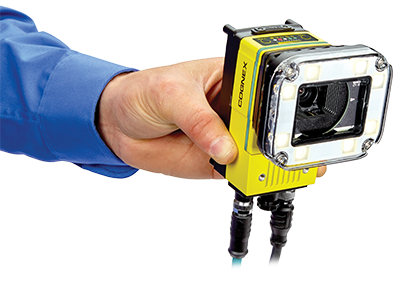 There are several graphical user interface–based software options for neural network training. Matrox Imaging, for example, offers deep learning software and hardware. The company's software offerings—Matrox Imaging Library (MIL) X and Matrox Design Assistant X—include vision tools for classifying or segmenting images for inspection using deep learning. Both software packages deliver optimized convolutional neural networks (CNNs) or models for the task.
Key to deep learning is the training of a neural network model. MIL CoPilot's interactive environment provides the platform for training models for use in machine vision applications. MIL CoPilot delivers all the functionality needed for this task, so you can create and label the training image dataset, augment the image dataset if necessary, and train, analyze, and test the neural network model.
Another example, the In-Sight D900 from Cognex, is a smart camera powered by In-Sight ViDi software designed specifically to run deep learning applications. In-Sight ViDi applications are deployed on the In-Sight D900 smart camera without the need for an industrial PC, making deep learning technology accessible to non-programmers. It uses the familiar and easy-to-use In-Sight spreadsheet platform which simplifies application development and factory integration.
More Tools in the Toolbox
Continued development of new and improved machine vision components and easy-to-use software is driving this year's increased machine vision adoption and application expansion. To meet increasingly complex manufacturing challenges, vendors are continually developing new components that vision system developers can deploy to address an increasing variety of application challenges more quickly and easily.
From high-speed and high-resolution cameras to LED illumination, optics, smart cameras, and embedded cameras to advanced imaging components such as spectral and nonvisible imaging, vision system developers have never had more tools in the toolbox.