Major Robot OEMs Fast-Tracking Cobots
POSTED 09/25/2014
 | By: Tanya M. Anandan, Contributing Editor
Still in its infancy, the rapidly evolving domain of human-robot collaboration (HRC) has seen remarkable technological advancements in the last two years. No doubt, ambitious start-ups breeding new types of collaborative robots have excited the frenzy.

Not to be outdone, the traditional robotics establishment is circling the wagons. They are quick to point out that they were the first to enter the HRC arena and the innovations don't stop there. All agree. There's plenty of collaborative space to go around.

"It has stimulated innovation," says Chris Blanchette, National Account Manager Assembly and Aerospace for FANUC America Corporation in Rochester Hills, Michigan. "Having these companies pop up with these solutions, maybe they're not in many cases industrialized, but they certainly highlighted the demand and need for it. Now everybody has to innovate and get solutions out there that are industrialized."

Innovating they are. From rival dual-arms to one-arm wonders shedding their industrial barriers to further medical science, collaborative robotics has been around longer than many realize. Each manufacturer is bringing its own brand of converging technologies to the HRC space. Several were on display this month in Chicago at IMTS 2014. Meet the latest dual-arm to enter the fray.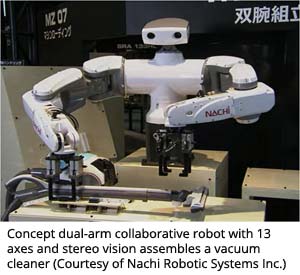 Dual-Arm, Dual Vision
Nachi demonstrated its 13-axis, dual-arm concept robot. It has a head equipped with stereo vision connected to a torso sporting two 6-axis arms. The 13th axis is a waist that allows the robot to swivel around to survey its environment and pick up parts.

"We have been working toward a collaborative robot for several years now," says Mike Bomya, President of Nachi Robotic Systems Inc. in Novi, Michigan. "Our dual-arm is a test bed for multiple technologies that feed into creating a collaborative robot."

This video shows the Nachi dual-arm in action upon its debut in Japan at IREX 2013 last November. The collaborative robot's stereo vision and built-in force sensing come into play as it assembles a vacuum cleaner.

Bomya says the dual-arm is geared toward general assembly applications that require high dexterity. Each arm has a 7-kg payload and repeatability is +/- 0.02 mm. All the cabling is tucked inside the lightweight aluminum body.

According to Nachi, the dual-arm will comply with the harmonized ISO 10218 and ANSI/RIA R15.06 robot safety standards for human-robot collaborative operation, as well as Canada's CAN/CSA-Z434 standard. An official product release date has yet to be announced.

(For a quick review of applicable robot safety standards and more examples of collaborative operation, check out this article.)

Nachi wasn't the only traditional robot manufacturer featuring a collaborative robot at IMTS. Big Yellow donned a shade of green that even Kermit would envy.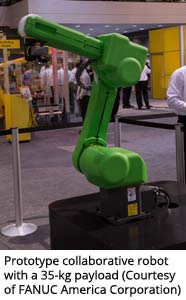 Big Yellow Goes Green
FANUC demoed a fenceless robot cell with a large articulated arm clad in green, soft synthetic rubber designed to protect its human workers in the event of unintended contact. A cross between a conventional industrial robot and the newer lightweight cobots, FANUC's collaborative prototype has built-in force sensors and a 35-kg payload.

The cageless design integrates FANUC Dual Check Safety technology with Rockwell Automation safety sensors to allow for human-robot collaboration in specified safety zones. (These technologies are integral to the HRC area; more on this later.)

According to FANUC, the production model will be released in early 2015.

While the established robotics community and up-and-comers were dueling for attention in Chicago, news was coming out of Zurich about another dual-arm.

You and Me, Collaborate
Swiss-based ABB announced the official release date for its new dual-arm collaborative robot called YuMi®. Mark your calendars for April 2015 at HANNOVER MESSE in Germany.

YuMi is short for "you and me" and replaces the generically named DACR, for dual-arm concept robot. ABB says this is not the same robot that captured the fascination of the tech media when first introduced in 2011, back then coined FRIDA. YuMi is an entirely new generation, several iterations ahead of its predecessor.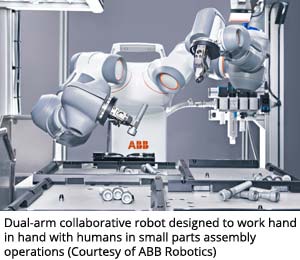 The dual-arm made its North American debut at the ABB Technology Days event in Auburn Hills, Michigan, this past March. Attendees were surprised by its small stature. Phil Crowther, Global Product Manager-Small Robots for ABB, was on hand to explain that the robot was designed for installation in workstations currently reserved for humans. Less than a meter across the shoulders, the robot's compact size is critical to minimizing the manufacturing footprint while still maintaining a human-like reach.

Designed to be cage-free, the robot's soft, padded arms combined with built-in force sensing technology help ensure the safety of YuMi's human coworkers. The dual-arm also sheds the traditional orange skins of ABB robots past for a more approachable, white exterior.

The company announced earlier this year that all new ABB robots will be graphite white to embrace the new era of humans and robots working collaboratively, which many insiders see as the future of the robotics industry and manufacturing.

According to ABB, the new dual-arm is designed for small parts assembly, especially in the consumer electronics sector. The "total small parts assembly solution" includes adaptable hands, flexible parts feeders, force control sensing, vision guidance, and the robot maker's renowned control and software technology.

This video shows YuMi in action at Automatica 2014 this past June.

Lightweight Arm Spurs Medical Innovation
Also headlining at Automatica, KUKA introduced its latest generation LBR iiwa. Originally designed in cooperation with the German Aerospace Center (DLR), the lightweight 6-axis arm has come a long way from its days in the space program. On display in KUKA's booth were a myriad of applications for the LBR ranging from stacking food trays and manning TV studio cameras, to simulated bone surgery.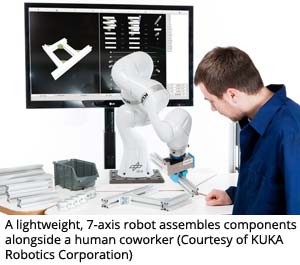 "The original LBR that we adopted from the DLR incorporates force torque sensors in all seven joints," says Mike Beaupre, Director New Market Sales for KUKA Robotics Corporation in Shelby Township, Michigan. "The robot reacts much more sensitively and quickly, as opposed to using just motor torque. With medical applications, we don't have to put an additional six degree-of-freedom force torque sensor on the end of the robot. All of that is incorporated into the robot technology."

Beaupre says most of the applications for the LBR are medical related. "There's a lot of R&D going on, including some surgical applications, like knee and hip replacement. Another example would be a third arm for a surgeon, as an assistant holding a clamp or device in position."

KUKA exchanged its trademark orange for a white aluminum body on the LBR Med and other models designed for service robotics applications. KUKA Product Manager Christian Felkel explains the new, friendlier feel behind "work-sharing" in this video footage from Automatica.

Researchers around the globe are using the nimble arm to experiment with future applications for human-robot collaboration. In this video KUKA's lightweight arm is coupled with a Robotiq adaptive gripper for a human-robot interactive car door assembly application, one of the projects of the CHARM program.

Not ones to be confined to their stationary perches, collaborative robots are on the move.

Cobots on the Move
The Adept Lynx™ Handler combines an autonomous intelligent vehicle with a collaborative 4-axis SCARA robot for transporting and loading/unloading semiconductor wafer pods and other components. The Handler safely maneuvers through narrow aisles and around people in cleanroom environments and other crowded, dynamic spaces.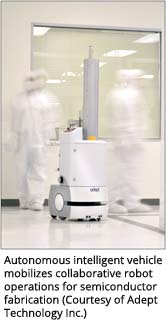 "The entire system is intended to be operating in a shared workspace with people," explains Deron Jackson, PhD, Chief Technical Officer at Adept Technology Inc. in Pleasanton, California. "The SCARA robot on top of the mobile base is power and force limiting. It stops on impact with a person and doesn't exert more than defined in the ISO 10218 standard. The mobile base itself has safety-rated obstacle avoidance, where it will stop and steer around people, and has a rating according to the 13849 standard for that safety function."

Jackson says the key to this collaborative technology is the combination of the autonomous intelligent vehicle (AIV), which is constantly scanning its environment and adjusting to it (versus a conventional automated guided vehicle, or AGV, that follows magnets or painted stripes on the factory floor), coupled with the vision guided SCARA robot that can precisely pick and place different kinds of parts. In this case, semiconductor pods requiring submillimeter accuracy.

"We put vision guided robotics on top of the mobile base, so we can get close to the fab machine and then use the motion of the robot arm combined with an arm-mounted (2D) vision camera to identify the product and then very precisely pick it up," explains Jackson. "Now we're not only covering the workspace of the robot, we're covering the workspace of the entire factory, because that robot is mounted on top of a mobile vehicle."

Adept markets its AIVs primarily for use as fleets on the factory floor. Adept's enterprise software manages each vehicle's location and each fab station. When one machine is done processing a part, the system sends the closest available AIV to retrieve the part and transport it to the next station. According to Adept, the software continually monitors the process to make sure the factory's AIV fleet is being used effectively.

Each robot has its own charging dock, which it can locate automatically and then charge itself. The Adept Handler is intended to work 10 hours on a single charge.

"We have a large fleet at a customer right now," says Jackson. "They run the robots 24/7, three shifts a day. They don't even wait to charge. Every shift, they change the batteries and keep them running constantly."

Jackson says some of their integrator partners are testing different robots mounted on Adept's mobile base. "We will continue to sell the Lynx as a component to integrators who want to build their own solution on top."

Intelligent mobile robots are pushing the boundaries of the human-robot collaborative realm, while advanced software technologies are bringing new freedom to conventional robots in the collaborative space.

Collaborative Robots vs. Collaborative Operation
Most of the traditional robot OEMs have software-based technology integrated into their robot controllers, that when combined with safety mechanisms such as safety-rated sensors, allow for human-robot collaborative operations, even with high-payload robots. Most of this technology has been around for a decade or more.

Each robot manufacturer has its own version. As mentioned earlier in this article, FANUC has its Dual Check Safety technology. ABB's is called SafeMove. KUKA's is Safe Robot. Nachi has its Robot Monitoring Unit or RMU, and Yaskawa Motoman has its Functional Safety Unit.

"They've been around for a number of years," says FANUC's Blanchette. "It's only in the last couple of years that the safety standards changed to recognize that the tools that were already in place were indeed safe."

The technologies are covered under the latest robot safety standards published in March 2013 that address safety-rated soft axis and space limiting (ANSI/RIA R15.06-2012, Part 1, 5.12.3). They allow for more creativity and flexibility in the robotic cell layout. They also reduce the work cell footprint, and ultimately lower costs by eliminating the need for extra equipment and elaborate safety fencing.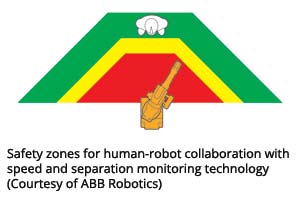 "Some of the collaborative features that are more practical for a manufacturing environment already exist, like our Dual Check Safety (DCS)," explains Blanchette. "With DCS you can do a lot as far as reducing the footprint of the work cell. You don't have to have all this guarding in there if you have these sensors to detect the presence of people within those areas."

Blanchette stresses that it's important to consider the level of human-robot collaboration desired. Allow the robot to excel at its core strengths – speed and repeatability – and only restrict its movement when necessary.

"One of the trade-offs between the term 'collaborative robots' and what we've seen in the news over the last couple of years relative to new entrants is to scale down the payload and the speed of the robot so that it's 'safe' or suitable for collaboration with people," says Tim DeRosett, Director of Strategic Initiatives at Yaskawa Motoman in Miamisburg, Ohio.

DeRosett is referring to several new robots on the market that allow for human interaction through power and force limiting methods of collaborative operation. These cobots are often touted as "intrinsically safe" and while they have their place in the automation landscape, typically they have lower payload capacities, and move slower and with less precision than their conventional counterparts.

"In many applications, customers need to move heavy product and need to move them a fair distance, so you need a long reach, and there's a required throughput," explains DeRosett. "You just can't scale down the payload, speed and performance. It's not practical to do that."

Yaskawa achieves "collaboration through control" with its Functional Safety Unit (FSU), which is an option supported on most Motoman robots equipped with its latest controllers.

"Our approach with the FSU is to keep the performance of the robot when you need the performance, but when an operator is interacting within a specific area of the work cell, slow the robot down, and do it in a control reliable and safe mode," says DeRosett. "If there's a particular area where the operator may need to load parts or move parts, the robot can move slowly in a different area. When the operator moves out of the workspace, then the robot can continue working at a higher speed."

The 80/20 Rule
Many of the traditional robot manufacturers contend that the majority of industrial robotic applications involve minimal human interaction, but require higher payloads. The idea is to allow the robot to work at optimal speeds when the application calls for it. Fenceless robotic cells are not always the answer.

"There are lots of reasons for having physical guarding that have nothing to do with human-robot interference," says Yaskawa's Technology Director Erik Nieves. He cites weld fumes, spatter and arc flash to name a few. Plus he says you need to consider system hygiene and uptime, especially when you have unpredictable humans in the area.

Nieves notes that most robots spend 80 percent of their cycle time working alone and only 20 percent interacting with humans. Furthermore, he says 80 percent of robotic handling applications require more than a 20-lb payload. In these cases, he says the only way to add human skill to the process is collaboration through control.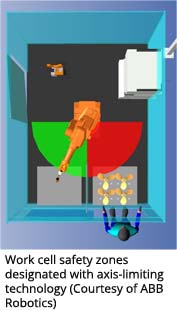 Redundancy for Safe Collaboration
ABB was demonstrating its version of the technology and human-robot collaborative operation as early as 2009.

"We developed SafeMove so you could get up close and personal with a robot without being put in harm's way," says Nicholas Hunt, Manager of Technology and Support at ABB Robotics in Auburn Hills, Michigan. "The robot has a certified way of checking the position. So we have one CPU that is controlling the robot axes and another completely different CPU that's running the same code and getting the same feedback. These two are being compared constantly and if there's any difference between what one thinks compared to what the other thinks, then we shut down."

SafeMove saves on floor space by restricting robot motion to only the areas required by the application. Speed limitations can further reduce the work cell footprint by minimizing safety distances for light curtains and other safety peripherals.

Hunt says the aerospace industry recognized the value of this concept right away. "First of all, they were amazed. 'Oh, you don't need to hit hardwired e-stops anymore?' They couldn't believe what they were seeing. It's being embraced for what it can do for floor space. If it wasn't for SafeMove, you wouldn't try to do some of the things that we do now."

HRC in the OR
Outside of the industrial area, KUKA's Safe Robot and Safe Operation technologies have been bringing humans and robots together in the co-occupied space for more than a decade. These technologies are behind the company's professional service robots used in entertainment and medical applications.

"I truly believe that's what helped evolve this technology, back in 2000, when our management decided to look at this as our future, being the entertainment and the medical business, where we can now put people in the workspace of a robot, rather than behind a fence," says KUKA's Beaupre. "I think that brought us into some areas that before we couldn't touch."

"We have a customer, Accuray in Sunnyvale, California, that has a product, the CyberKnife® System, for radiation treatment," explains Beaupre. "That system is basically our robot that manipulates their linear accelerator or the X-ray source around the patient to precisely deliver high doses of radiation to tumors. The big advantage is the robot allows for manipulation of that device to many degrees around the patient. Combined with a patient positioning device that is also using our robotic technology, they can treat just about any area of the body while avoiding healthy tissue."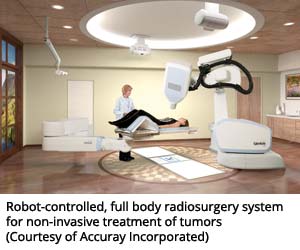 Beaupre credits the development of KUKA's lightweight arm to the company's early work in the medical field. "That's what started us thinking about the whole HRC concept and how we can get people working not just in the workspace, but hand in hand with the robot."

"With this technology, we can set parameters to monitor workspaces, axis accelerations, axis velocities, including the Cartesian velocity," explains Beaupre. "Then there are other features like standstill monitoring that is important for industrial or specifically automotive applications, which allowed us to hand off a part directly from the operator to the robot, and vice versa, as opposed to first having to set it down."

Thrill Ride
Developed in 2001 according to Beaupre, the RoboCoaster took human-robot collaboration to a thrilling new level.

"We are the only major robot company that has passenger-carrying robots. We're actually redeveloping that total package right now into our 2.0 generation, which we expect to have completed and start marketing at the end of the year."

Beaupre says this latest generation will be a simplified version of the original RoboCoaster. It will incorporate Safe Operation under the new standards.

"It's not so much about people being accessible or close to the robot. But what it does allow us to do is monitor speeds, accelerations and the workspace."

Right now, riders have to board the RoboCoaster via a series of steps to an elevated platform.

"The platform extends and retracts," explains Beaupre. "There's a contact arm to confirm that the robot is in position with the platform, with redundant contacts. Those are always maintenance issues for our customers. That's all eliminated using Safe Operation. Now the arm can go all the way down to the floor."

Whether you call it Safe Operation or SafeMove, RMU or FSU. Whether the robot is white or green, or has one arm or two, or even roving the halls or soaring overhead. They are all collaborative in their own way. We humans are their willing cohorts. 2015 should be another exciting year for the HRC team.

RIA Members featured in this article:
Adept Technology, Inc.
ABB Robotics
FANUC America Corporation
KUKA Robotics Corporation
Nachi Robotic Systems Inc.
Yaskawa Motoman