Fenceless Safety Embraces Human-Robot Interaction
POSTED 08/23/2018
 | By: Tanya M. Anandan, Contributing Editor
The cobots are here. Smaller and more agile. They integrate easily and are programmed in hours. They cost less and consume less space. Like most robots, they free us from dull, dirty and dangerous work. These power and force limiting robots break through the monotony without breaking the bank, or our heads. They often go where their large-payload brethren cannot. Collaborative robots are calm, they're cool, and they're usually fenceless.
But they're not alone. Nor do their lightweight bodies and restricted performance mean their work zones are always safe. With collaboration comes risk. Fenceless robotic systems come in many forms, and in all shapes and sizes. Someday, true human-robot collaboration (HRC) may know no bounds.
Upcoming Robotics Conferences You Won't Want to Miss

International Robot Safety Conference
October 09 - October 11, 2018

Robot sales are at an all-time high and robot safety is of paramount importance in automation planning. The RIA International Robot Safety Conference will offer conference sessions and workshops that examine key issues in robot safety and provide an in-depth overview of current industry standards. Read More

Collaborative Robots, Advanced Vision & AI Conference
October 24 - October 25, 2018

Collaborative Robots and Advanced Vision are two of the most cutting-edge topics in automation today. At this two day conference you will explore a range of current advancements in both fields focusing on technology, applications, safety implications, and human impacts. Whether you're looking to implement your first ever automation system, take your current system past its limitations, grow your understanding of the available technology, or learn more about the market in general, this conference is right for you! Read More
In the meantime, keep your eyes peeled for unconventional robotic cells with fenceless conventional robots. Where software embedded in the latest robot controllers along with sensors and other safety control technologies are freeing high-speed, high-payload robots from the confines of their hard fences to collaborate with their human coworkers. They're less of an anomaly than you might think. They're just hard to spot in the wild.
New robotics users may only equate "fenceless safety" with collaborative power and force limiting robots. Not so, but some scenarios pose more challenges than others. This fenceless machine tending cell features a high-performance ABB robot that moves with your workflow. See it in action.
Now take this fenceless crankshaft testing process made more ergonomically friendly for BMW workers thanks to mammoth KUKA robots and multilevel safety controls. Watch the video.
Going fenceless can save floor space, and the cost and time of erecting hard guarding. It allows for more flexibility in cell layout and makes it easier to reconfigure or relocate workcells. Without fences and lockouts, workers are able to more efficiently interact with a cell for both collaboration and maintenance.
"We have a lot of people coming to us saying they want a collaborative robot. But as we talk through their applications, what they are really after is a fenceless robot," says Rick Vanden Boom, Vice President–Systems at Applied Manufacturing Technologies (AMT), an RIA Certified Robot Integrator in Orion, Michigan. "We start with your application requirements in terms of throughput and payload. Then we work back to what's the right robot for the application."
A collaborative power and force limiting robot is not always the answer. But sometimes it makes sense, especially when you're working with limited space where operators and robots must work in close proximity or directly with each other, as in this AMT case study.
Collaborate for Better Ergonomics, Quality
An automotive OEM customer approached the integrator asking for a collaborative robotic cell for its powertrain facility. The robot would assist an operator with spark plug insertion.
In this case, the robot is a FANUC CR-35iA collaborative robot (pictured) with a 35 kg payload. The green, soft foam-cladded cobot operates alongside the assembly line without any safety fences around it. It's equipped with a custom end-of-arm tool (EOAT) designed to hold four spark plugs.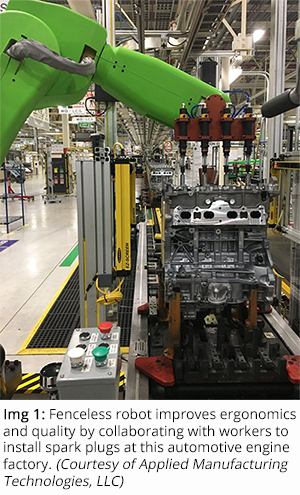 The assembly process starts with engine blocks fed one at a time on a conveyor. The robot turns to present the EOAT to the operator, who is also standing lineside. Interacting directly with the robot, the operator loads the spark plugs into the EOAT. When finished loading the spark plugs, the operator simply pushes a button on the robot to resume operation. The robot arm then turns towards the conveyor line, lowers the EOAT into position over the engine block, and inserts the spark plugs into the cylinder heads.
The EOAT works like a pneumatic wrench. As the robot inserts the spark plugs into the cylinder heads and begins to apply downward force, it compresses the spring-loaded tool, which begins to rotate the spark plugs. This initiates the threading process. Downstream, more sophisticated automation completes the job by tightening the spark plugs to specific torque settings.
Previously a manual operation, the process used to have tooling hanging from an overhead cable system that the operator moved into position. They would load the spark plugs into the tool, lift it overhead and then awkwardly try to wrestle the spark plugs into the cylinder heads. Ergonomics was a major issue, so was quality.
"This was especially challenging for some workers based upon their height," says Vanden Boom. "Because of the manual nature of this operation, there were collisions with the tooling, the spark plugs and the engine block. There was also the potential for cross-threading the spark plugs during rundown."
Ergonomics and quality were two compelling reasons to automate. But why not a traditional robot for this application? And why this particular collaborative robot?
Vanden Boom says the plant wanted a truly collaborative robot application, not just a collaborative robot working in a fenceless environment, but one that interacted with the operators. In this particular case, the payload was not excessive and the robot did not have to move at very high speed, but there was a reach requirement. The longer reach of the FANUC CR-35iA collaborative robot was a good fit, plus the plant was already using FANUC robots in other parts of the facility.
"With the collaborative robot, it was a much simpler implementation than using a traditional robot and adding light screens or area scanners," says Vanden Boom. "The motion is fairly limited and it allows very good interaction with the operator."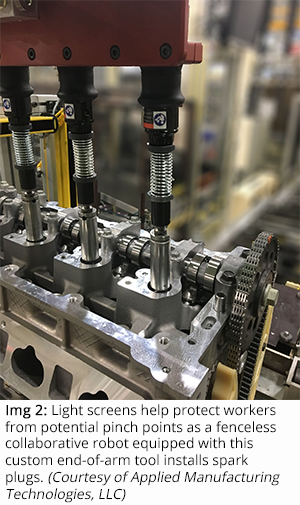 Assess, Mitigate the Risks
This was the first collaborative robot deployed in the plant and within this OEM division. Safety was a main focus.
"Additional attention was given to safety by the corporate, plant and union safety groups," says Vanden Boom. "The fact that operators interacted directly with the robot to load parts to the EOAT required buy-in from the plant workforce as well."
The collaborative robotic cell included two Banner EZ-SCREEN® Safety Light Screens to protect operators from inadvertent contact with the EOAT during spark plug installation.
"Our initial concept of the job didn't have any light screens or additional safeties," says Vanden Boom. "But as we were doing the risk assessment, it was identified based on the tool design that if an operator stuck his hand in as the robot was moving in a downward motion with the spark plugs, this could create a pinch point. We added a couple of small light screens that were only activated when the robot was in that downward motion."
Vanden Boom says the application is over two years old and still running successfully today.
"We have a lot of applications using collaborative robots that really aren't interacting with people. They are just operating in a fenceless environment. This application is truly collaborative."
AMT has an in-house safety subcommittee dedicated to researching human-robot collaborative technologies and applications. Their team has developed about a dozen HRC applications over the last year and half, including this partner application with Hexagon AB for fenceless robotic 3D metrology. Watch the video.
We explored several types of HRC applications in Collaborative Robotics Puts People First.
Whether you're using a power and force limiting robot or a fenceless high-performance robot with safety sensors and controls, nothing should be taken for granted. The entire application must be assessed so that all potential risks are identified and mitigated when workers and automation are interacting with each other. There is no substitute for a risk assessment.
Cobots and Collaborative Conveyors
Consider this demo cell (pictured) of a fenceless packaging line with a traditional high-speed robot. The FANUC robot is integrated with a Rockwell Automation SafeZone Mini Safety Area Scanner that monitors the presence of humans or objects to slow or stop the robot when designated safety zones are breached. Watch it in action.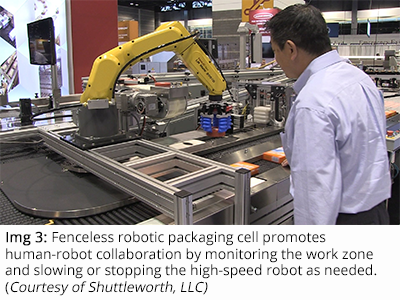 If human intervention is needed, the robot will automatically reduce its speed and then stop if the operator enters the robot's work envelope. Once the operator exits the work area, the robot automatically resumes normal operation at full speed.
You will also notice a unique gripper on the robot. The Soft Robotics gripping system can handle myriad items of varying shapes and sizes without damaging them, even soft pastries. Donuts, anyone? Soft actuators also make the gripper a good solution for human-robot collaboration in fenceless environments.
The demo cell also incorporates an innovative collaborative conveyor system. Unlike traditional conveyor belts, the Shuttleworth exclusive Slip-Torque® conveyor technology disperses force across the conveyor surface, so that no one surface area can cause injury. According to the manufacturer, personnel can work safely directly on the conveyor surface.
"Shuttleworth is a robotics systems integrator's dream product because it is collaborative," says Ken Tinnell, the company's Vice President and General Manager. "It has low backpressure; it's safe and quiet. It's also really flexible. Use it where you want it, when you want it, so the robot doesn't have to work quite as hard."
Based in Huntington, Indiana, Shuttleworth is a division of the ProMach family of packaging machinery brands. Founder Jim Shuttleworth pioneered Slip-Torque roller technology in the early 1970s. Applications have evolved over the years into varied industries including food and beverage, paper, automotive, energy and consumer packaged goods.
"We were doing collaborative conveyors before it was a thing," says Tinnell. "It boils down to some nice physics we take advantage of that no one else does."
Gentle to Product and Hands
The technology takes advantage of individually powered roller shafts covered with segmented, loosely fit rollers molded from proprietary plastics. The weight of the item conveyed combined with the coefficient of friction between the shafts and the inside diameter of the rollers provides the driving force. As the conveyed item comes to a stop, the segmented rollers beneath it also stop, creating very low backpressure accumulation and reducing product damage.
"It's not like a piece of conveyor that you used to buy ten or fifteen years ago to convey product from A to B," says Shuttleworth Engineering Manager Michael Liu. "If you put a case behind a normal conveyor, you can actually feel the force against your hand. With Slip-Torque, it will convey that product but you don't feel the force up against your hand. It's gentle on the product."
It's also gentle on workers' hands, as Tinnell explains.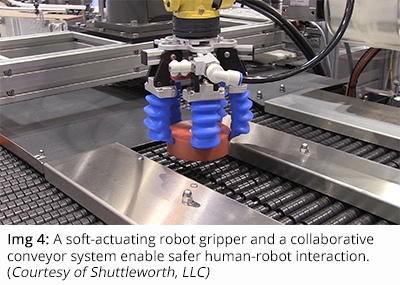 "When you put your hand on the rollers, on the surface of the conveyor, it stops immediately. You're not going to get skinned up or burned up. There's no transference of massive amounts of friction to your body. If you take your hand away, the roller starts spinning again. This reduces the amount of pressure when you have products back to back. The amount of pressure that the first product in the line feels from those behind it is greatly reduced, by 95 percent.
"It allows us to be a whole lot safer than any other conveyor out there," continues Tinnell. "That's really the theme of the collaborative robot. They want to get rid of the fence. When you put collaborative robots and a collaborative conveyor together, you get an amazing result."
This demo cell inspired a new application currently undergoing R&D assessment at Shuttleworth. One of their long-time customers in the food industry wants to automate a process that requires repetitive wrist movements. Workers are complaining about repetitive strain injuries.
The current R&D cell incorporates a FANUC CR-7iA collaborative robot with a Shuttleworth conveyor. The robot will be working collaboratively with an operator in a very small area, which is why the process requires a power and force limiting robot. There is not enough space around the robot to allow for the safe stopping distances required for safety area scanners and light screens.
Even though the process requires very high product handling rates, the cobot will pick multiples of the product so its slower speed isn't an issue. In the finished workcell, the operator will be doing one portion of the product handling, while the cobot assists with the repetitive work that's the source of all the wrist injuries.
"The operator and the robot will be working within arm's distance away," says Liu. "That's the big advantage with collaborative."
"If all goes well, we're going to take it to the next step and that's implementing the entire workcell," says Tinnell. "It could change the way this company will be doing business in all of their plants."
Liu and Tinnell both have backgrounds in robotics systems integration. They credit Shuttleworth's rapid market share increase to the rising popularity of collaborative robotics.
"In the last three years, our sales volume doubled," says Tinnell. "I think it's due to the collaborative nature of our conveyor, coupled with a growing demand from robotics systems integrators to have a collaborative solution."
Collaborative technologies of all kinds are revealing new paths to safer human-robot interaction. With no fences and no bounds, true human-robot partnership is on the horizon. We're not quite there yet. But we're close.
RIA Members featured in this article:
Applied Manufacturing Technologies, LLC
Shuttleworth, LLC