A Successful Partner: Choosing an Integrator
POSTED 05/03/2007
 | By: Bennett Brumson, Contributing Editor
For end-users of robotics, choosing who will integrate their work cell is one of the most important decisions they will make, other than the initial decision to invest in flexible automation. Picking an experienced and knowledgeable integrator makes the difference between deploying a viable robotic system and an investment that goes bad.
Click here for list of integrator tabletops

''The most important thing to do when choosing an integrator is to talk to people who have worked with that integrator before,'' says Carl Traynor, Senior General Manager of Distribution and Handling at Motoman Inc., West Carrollton, Ohio. Motoman is robot manufacturer and systems integrator. ''Companies should not make a decision about choosing an integrator before speaking with someone who has done business with that integrator.''
Communication
When choosing an integrator, it is vital for both the end-user and the integrator to have a clear understanding of the project goals. Without this clear understanding, problems are inevitable. Gerard Walter, Marketing and Purchasing Manager at Creative Automation Inc., a systems integrator in Ann Arbor, Michigan, says, ''The first priority is to have clear communication and a clear understanding of the objectives of the project. Integrators have to understand what the end-user is really looking to achieve and what they can afford.''
Walter continues by saying that some of the responsibility for clarifying a project's objectives lies with the end-user. ''End-users have to understand what integrators need from them to implement the project. Both end-users and integrators need to have a realistic appreciation of what can be done for the money.'' Integrators have to be able to communicate costs so end-users can make informed decisions on how much they are willing to invest.
Bringing the integrator into the design process as early as possible facilitates clear communication. ''The sooner integrators get into the design process of a work cell, the sooner they can propose solutions as well as alternatives,'' Walter advises.
''Experience has taught us that we might have a way of simplifying the integration process that might save money for the end-user in the long run.'' Walter cautions end-users to understand differences between the requirements of the work cell and their wish list. ''Sometimes customers ask to add functionality that is unneeded and also adds a lot of costs. The wish list ends up on their quote and that increases costs a lot.''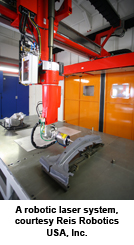 Clear communication is also important to Peter Stellbrink, General Manager for North America at Reis Robotics USA, a systems integrator in Elgin, Illinois. Stellbrink says ''Clarification of customer requirements is important. Some integrators only take into account the specifications that the end-user requests and do not take the time to thoroughly test the system before putting it into production on the factory floor.''
Likewise, Rophin Paul, General Manger at PARI Robotics Inc., Lake Orion, Michigan, stresses the need for clarity between end-users and integrators. ''If I were an end-user, I would always try to provide as much information as possible to the integrator. Also, it is important to see what the integrator is doing rather than just telling the integrator what the project consists of. An end-user needs to have a good understanding of the integrator's capabilities, and has to support the integrator in whatever way possible to make the project happen.'' Paul concludes by simply saying the integrator needs to be able to support the project.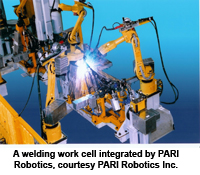 Paul further says end-users and integrators need to take the time to undertake an application study. This study should document of details the proposed work cell, with the end-user providing as much data as possible to the integrator. Often, when a project fails it is ''because the application engineering was not done right or the project manager on the end-user's side did not provide sufficient information. A lot of failed projects can be avoided by making good process documents,'' Paul says. ''A good application study eliminates a lot of basic issues.''
It is not unreasonable to have to pay for an application study, which may involve significant engineering time, computer simulation, the need to build grippers to physically test the process, etc.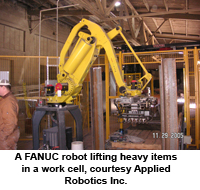 Being on the same page is literal for Bruce Toyama, General Industry Sales Manager at Applied Robotics Inc., Glenville, New York, an equipment supplier. Toyama says ''Being on the same page as integrators and end-users is crucial. I take a piece of paper, fold it in half, and write the roles and responsibilities of the end-user on one half and the integrator on the other half.'' Toyama went on to say, ''Integrators and end-users need to take each other's perspective.''
Communicating what the end-user needs and what the integrator can provide was also on the mind of Gerald Vogt, Robotics Division Manager at Stäubli Robotics, Duncan, South Carolina. Vogt says ''Detailed specifications of the application and the result that end-users want to achieve are crucial. Often the integration process has problems because the goals were not precisely defined.'' Vogt adds ''The end-user envisions a different system from what the integrator understood. Parts of the process might be changed, affecting the reliability of the process.''
The farther along in the process the system is, the more impact changes in the specification or project scope can have on the project in terms of cost and delivery.
Trust
Along with communication, trust is an important element to have when end-users set out to establish a partnership with an integrator. ''A good partnership begins with the belief in the product and trust that the product will perform as I tell them that it will,'' says Matthew Maiers, North American Sales and Marketing Manager at Nabtesco Motion Control Inc., an accessory equipment supplier headquartered in Novi, Michigan. ''End-users and integrators need to have trust in our product and that it will perform as advertised.''
Kevin Kozuszek, Director of Marketing at KUKA Robotics Corp., Clinton Township, Michigan, also feels that trust is critical for end-users when choosing an integrator. ''There needs to be a level of trust based on experience. For example, take a welding application where the end-user has many years of experience with welding but is new to robotics. That end-user needs to find an integrator they can trust based upon that integrator's experience,'' Kozuszek asserts. ''That trust is key to success.''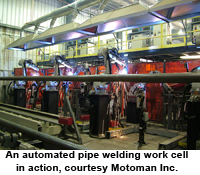 Not Just Know-How
Most robotic integrators have the technical knowledge to get a work cell going. However, the key to success is not only knowledge, but the willingness of integrators to stand by their work. This view is expressed by Carl Traynor of Motoman. Traynor says ''With integrators, many people's first inclination is make a decision solely on technical competence. However, I think that what differentiates integrators is not only technical capability but also their ability to manage a project, to make commitments and follow through on them, and their financial stability – that is why it is so important to speak with someone who has worked with them on another project.''
Traynor advises to not make a decision about an integrator without visiting their facility. ''Meeting the people that may be working on your project to get a sense of the 'depth of their engineering bench' is key,'' he says. ''For example, an integrator might have done a great job on a past project due to the efforts of a key individual within their company. However, if that key individual is unavailable for whatever reason (health issues, family crisis, job change), the integrator has to have people just as good to fill that key role,'' Traynor explains.
Traynor says proximity is another non-technical factor that end-users should think about when choosing an integrator. ''Geography is a consideration end-users should take into account. Ideally, end-users should be able to visit their system at any time as it is being built.''
''End-users might find a great integrator, but if they are in Los Angeles and the integrator is in Maine, excessive travel time required will challenge the relationship,'' continues Traynor. He advises that whenever possible the integrator should be within a day's drive. ''End-users can visit the integrator and see how the project is going with or without a phone call.''
''Teleconferences and videos showing the progress of the build can mitigate the impact of geographical separation, but they aren't as good as actually being there,'' Traynor comments.
The location of an integrator is also important to Bruce Toyama of Applied Robotics, who says, ''An end-user I spoke with says their company knows a lot of integrators to choose from but wanted someone local. Proximity is often a practical although not a technical criteria for an end-user.''
Training
Teaching end-users the capabilities and the proper use of a robotic work cell is an essential service that integrators provide. This provides integrators an opportunity to distinguish themselves from others. KUKA's Kevin Kozuszek, speaks of the training role integrators must play.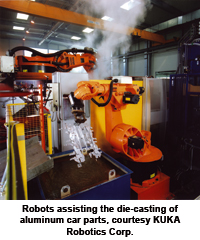 ''Integrators are providing more training to differentiate themselves from other integrators based on their abilities and experience. Integrators are providing training to the end-user to help them understanding the robot and its peripherals,'' says Kozuszek. ''Larger integrators see the value in differentiating themselves from the smaller ones through training. Smaller integrators might be more flexible, but end-users are spending a lot of money and they need to know they are making the right decision by having integrators quantify what their capabilities are.''
Training first time end-users is particularly important so some integrators provide training as part of the integration process.
''Kawasaki offers a free class, which is helpful to first-time end-users,'' says Robert Rochelle, Sales Manager at Kawasaki Robotics (USA) Inc., Wixom, Michigan. Rochelle says that ideally integrators themselves are trained on the robot so they in turn can provide training to the end-user. Most manufacturers and integrators will offer some type of training. The training should include information on service, maintenance, and spare parts.
Motoman's Carl Traynor concurs that training is highly important to the success of a project. ''We provide comprehensive training to our extensive network of approved systems integrators through formal Motoman Technical Training, regular Technical Forums, and our solution provider network. We encourage integrators to send their end-customers to Motoman for formal technical training, as well. End-users should investigate training capabilities and policies of prospective integrators to find out who will be able to provide them with the best training,'' says Traynor.
Sufficient training of end-users is the best way to avoid problems after the work cell is installed and operating. Peter Stellbrink of Reis Robotics addresses training as a means of avoiding difficulties down the line.
''A good systems integrator must come up with a detailed schedule of what training is required, at what level, and try to make the end-user aware of when this training needs to happen,'' Stellbrink says. ''If the end-user agrees to a training schedule, the system is usually smoothly implemented. If the end-user chooses to ignore or delay the training schedule, ongoing support is needed from the integrator.'' Stellbrink went on to say that eliminating or postponing proper training costs money, which is usually not budgeted, and causes headaches for both the integrator and the end-user.
Go With a Pro
Using flexible robotics is key to global success in manufacturing. Investing in robotics is a serious financial commitment and end-users do not want to squander precious capital on failed projects or poorly integrated equipment. To avoid the nightmare of failed work cells, it is best to take the advice of Kawasaki's Robert Rochelle, who says, ''Be careful when choosing an integrator. The best way to do that is to check with the Robotic Industries Association (RIA) or a robot manufacturer. Avoid two guys in garage with a hack saw.''
In addition to selecting a reputable integrator, end-users should not select an integrator based solely on lowest bid. End-users need to consider what experience, feasibility studies, training, and post-installation support -- differentiators that can reduce risk -- add to an integrator's cost of doing business. Decisions based solely on cost are not always the cheapest path to successful automation.
Editor's Note:
This article has been reviewed by members of the RIA Editorial Advisory Group.
For more information, you may contact any of the experts listed in this article or visit Robotics Online, Tech Papers .
Bruce Toyama, General Industry Sales Manager, Applied Robotics Inc., 518-384-1000, [email protected]
Gerard Walter, Purchasing & Marketing Manager, Creative Automation, Inc., 734-930-0050, [email protected]
Robert Rochelle, Sales Manager, Kawasaki Robotics (USA) Inc., 248-446-4211, [email protected]
Kevin Kozuszek, Director of Marketing, KUKA Robotics Corp., 866-873-5852, [email protected]
Carl Traynor, Senior General Manager of Distribution and Handling, Motoman Inc., 937-847-6200, [email protected]
Matthew Maiers, North American Sales Manager, Nabtesco Motion Control Inc., 248-553-3020, [email protected]
Rophin Paul, General Manger, PARI Robotics Inc., 248-377-4447, [email protected]
Peter Stellbrink, General Manger for North America, Reis Robotics USA, Inc. 847-741-9500, [email protected]
Gerald Vogt, Robotics Division Manager, Stäubli Robotics, 864-486-5431, [email protected]