Use These 6 Preventive Maintenance Tips to Reduce Downtime
Your reputation and livelihood depend on the robots in your shop functioning at top performance at all times. To ensure that this happens, it makes good business sense to service them on a regular basis. Scheduled preventative maintenance is key to daily productivity, long-term reliability of equipment and the elimination of emergency repair calls. A well-maintained robotic system will maximize your investment and minimize production downtime. Here are six preventive maintenance tips to help you plan or improve your program.
Tip # 1: Schedule It
If you don't have protocols in place for preventive maintenance, create them ASAP. Plan out a schedule and follow through on it. Make it part of your shop culture. Checking your robots on a regular timetable helps keep small problems from becoming big ones. It also allows your maintenance team to work around peak production schedules.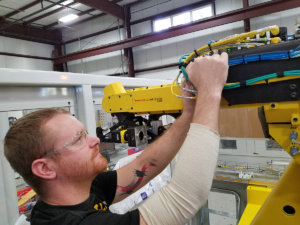 Tip # 2: Proper Training
Getting the proper training for your maintenance technicians is a great idea. Knowing how the system works and best practices for regular maintenance will give them a big boost in keeping your robotics in good operating order. We offer personalized hands-on, on-site training for your robotic systems. FANUC also offers training in cities across the U.S., as well as online courses.
Tip # 3: Follow the Instructions
Every FANUC robot comes with an instruction manual. If yours has been misplaced, they are available online. Looking over the instructions before you pick up your tool kit is time well spent. Following the guidelines will help you do things correctly and avoid missing any steps.
Tip # 4: Correct Lubrication Procedure
Keeping robots lubricated with the proper amount and type of FANUC-recommended grease helps them operate at peak efficiency. Follow the proper lubrication procedures as outlined in the manual. In particular, make sure to open the vent when you're putting the new grease in. You can over pressurize the reducers and harmonic drive to the point where you can blow the seals. Again, follow the FANUC guidelines.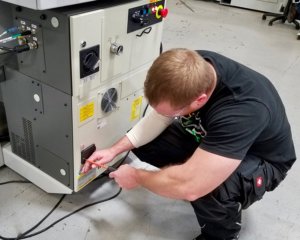 Tip # 5: Backup, Backup, Backup
Make sure to create image and program backups before you even begin your preventive maintenance routine. If you don't have an image, it's a lot harder to get back up and running. Part of every preventive maintenance program is changing the batteries out. Change the batteries with the power on. We get a lot of service calls where people have changed their batteries with the power off. If you do that, you lose everything.
Tip # 6: Inspect and Replace
Look through the error message history to see if there have been a lot of collision detections in a certain area. That could indicate the program needs to be changed or the fence needs to be reprogrammed. Inspect the components, end effectors, hoses, cables, etc. and look for signs of wear. Replace parts as needed.
Following these six tips will help you keep your robots reliable and productive. If you would like help managing your preventive maintenance, please contact us and ask about our Preventive Maintenance Plus™ program.