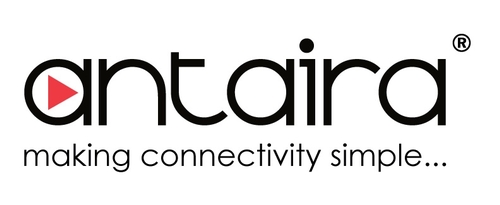 Content Filed Under:
Industry:
N/A
Application:
N/A
Discover Antaira's Industrial 12 Port Switches For Your Industrial Network
POSTED 03/20/2023
 | By: Henry Martel, Antaira Technologies
Discover Antaira's Industrial 12 Port Switches
for Your Industrial Network

Connectivity is at the core of industrial automation. Network links between devices, controls, machines, and the cloud facilitate the flow of data that has proven instrumental to improving operational intelligence, driving new revenue streams and cost containment strategies, integrating machine learning and advanced robotics, and ultimately, to reshaping traditional manufacturing models.
At Antaira, we empower innovators by giving them the connectivity tools they need to create highly reliable, easily scalable and robust industrial networks. Antaira's industrial Ethernet switches are foundational technology, enabling data to be transmitted across the network to the right place, at the right time, with the right instructions. Because networks are built on Ethernet switches, specifying the switch with the correct architecture and feature set is vital to the successful integration of connected cabled devices such as WAPs, IoT sensors, IP cameras, and PoE lighting.
Antaira Ethernet switches manage the communication flow between multiple end devices, receiving data in one port and directing it to another port according to the packet header — but they can do so much more. We will address those capabilities in this post to help you specify the ideal Antaira Ethernet switch to help you build stronger, more reliable and secure networks.
12-Port Managed and Unmanaged Industrial Switches
Antaira offers both managed and unmanaged Ethernet switches in dozens of configurations. Unmanaged switches are economical solutions for simple, static and smaller networks. In situations calling for traffic management, fine-tuned configurations, network redundancy, and remote troubleshooting, a managed switch is a better choice.
Don't mistake unmanaged with underachiever. Antaira packs many of its industrial unmanaged switches with advanced features like Power over Ethernet (PoE), 10GB speed, rugged environmental protection and fiber optic compatibility alongside standard Ethernet cabling. For example, take our LNP-1204G-10G-SFP unmanaged 10 Gigabit PoE Switch. This is a 12 port Ethernet switch that is built for maximum versatility. It is classified with Power Sourcing Equipment (PSE) able to deliver up to 30W of PoE+ power to your devices and eliminating the need for a nearby electrical outlet. It also has two 10G SFP+ slots that are perfect for secure long-distance connections immune to electro-magnetic interference. Built exceptionally tough, the LNP-1204G-10G-SFP is IP30 rated to support the standard operating temperatures from -40° to 65°C for harsh locations.
Antaira's portfolio of industrial managed switches come in an array of designs, from cost-efficient 10/100TX models to our new M12 10G 18-port switches capable of withstanding extreme vibrations, dust, water and shock. Consider the Antaira LMX-1202G-SFP-T. It's a versatile Gigabit light layer 3 managed device that combines a great price point with network redundancy, LAN configuration, QoS traffic management, and 12 ports for edge level connectivity including two dual rate SFP module slots. Industrial-grade protection makes it suitable for factory automation, power utility or any outdoor location.

Need Power over Ethernet? We have your Ideal PoE Switch
By now you are familiar with Power over Ethernet or PoE. This technology delivers DC power to end devices over a single Ethernet cable, while also transmitting data in both directions. IEEE 802.3at, known as PoE+ or Type 2, has been built into several Antaira managed and unmanaged switches so they can carry up to 30W to your PoE devices. Need more power? One of our newest innovations is the LMP-1204G-SFP-bt-24-T-BOS, a 12-port switch with Gigabit management where four of its ports support IEEE 802.3bt for a maximum of 95W per port. IEEE 802.3bt (Type 4) extends PoE power management capabilities and enables a range of new applications, such as power-hungry PTZ IP cameras with onboard heaters, LED industrial lighting systems, and high-resolution color monitors.
Antaira Offers Specialty Ethernet Switches
When installing electrical equipment in hazardous locations, engineers need highly specialized solutions that meet safety standards. The same goes for network equipment. Oil and gas refineries, petroleum plants, chemical processors, and wastewater treatment centers are some of the locations where flammable liquids, gases, and vapors are present or may potentially be present in the air in quantities sufficient to produce an explosion or fire. Antaira makes Class 1, Division 2 (C1D2) certified hazardous location Ethernet switches in unmanaged and managed versions for those industries with no compromising in switch port counts, PoE and mounting options. Where there is risk for explosion or fire due to ignitable gases, vapors or dusts, choosing the right switch is critical. Contact our tech team to discuss how to deploy Antaira switches in hazardous locations that you can rely on to protect people, property and productivity.
Another specialty switch that Antaira manufactures is a line of fully compliant IEC 61850-3 managed switches. The IEC 61850-3 standard defines requirements for utility communication and automation IEDs (intelligent electronic devices) and systems in power plant and substation environments. Our IEC 61850-3 industrial switches are tested to provide robust protection in applications subject to continuous transients such as substations.
Antaira also conformally coats a line of industrial switches in the event they may be exposed to toxic gases, chemicals, moisture or debris. These impenetrable coatings prevent deterioration and damage to switch electronics. Conformally Coating is another line of defense in physically demanding locations like wastewater treatment centers, in addition to the switches' metal IP67 rated housings and wide temperature operating range. Antaira conformal coatings are in accordance with the strictest environmental specifications, including ISO 9223 C5/CX and ISA 71.04 G3/GX.
The industrial landscape is always evolving, but one thing stays the same—harsh working conditions. If you need an industrial Ethernet switch to operate amidst physically demanding environments and hazardous materials, Antaira can help you protect your investment with rugged, standards compliant equipment. As we said in the beginning of this post, connectivity is at the core of industrial automation. And at the core of connectivity is Antaira. Visit us at www.antaira.com or call 1-714-671-9000 (USA).