The Truth Behind ROI in Automation
There is no doubt that industrial automation has become more commonly used by manufacturing organizations in recent years, as it has helped increase profitability among companies. Although organizations can benefit from automated systems, how do you know if automating your process will be the right investment? Before making a decision, you need to establish real return on investment (ROI) figures by considering the following criteria:
Evaluate Current Costs
You'll need to nail down what your current process is costing you in order to calculate a proper ROI figure for implementing a new automation system. Add up all the resources that are used in the process of making your product. Things to consider are labor costs, production time, direct material costs, and overhead costs.
Plan for the Long-Term & Lifespan of the Total Automation Investment
Traditional ROI calculators typically evaluate the short-term outcomes without any consideration of long-term benefits. Unfortunately, these calculations inaccurately express the true value of an automated system. The initial cost may seem intimidating at first; however, it is important to remember that these systems are created for continuing use. They are designed to increase competitive advantage for many years to come, not just the year of purchase.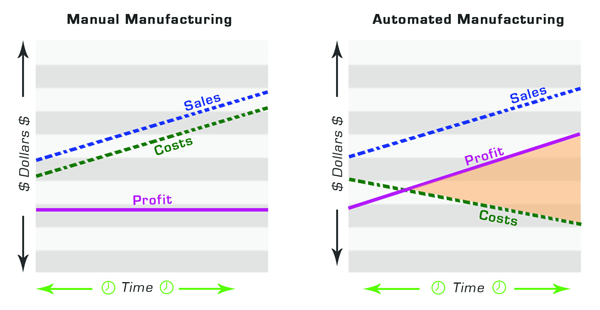 Indirect Benefits to Industrial Automation
Once you have figures to work with, now it's time to evaluate any indirect savings. This category can include things like maintenance labor or costs caused by physical exertion to workers. In addition to savings, automation can also improve worker's safety by removing them from dangerous situations and into other value-adding position. Other indirect benefits to automation include:
Flexibility (for example, robots can be reprogrammed to do a number of different operations and handle a variety of parts.)
Shop floor space savings
Optimized production planning due to the predictability of automation
Quality Improvements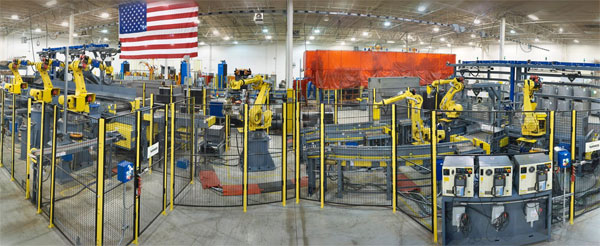 Calculate Performance
Automation helps to create error free production. One way Midwest Engineered Systems helps customers to meet their manufacturing requirements is by using the latest in servos and vision systems.
Cycle time improvements
Reduced reject rate
Increased consistency of product quality
Machine vision inspection
Meet with Your Integrator
Once you have an idea of what improvements need to be made to your manufacturing process, meet with your integrator. Be prepared to explain exactly what you need.
Bring a factory floor plan layout
Include a sequence of operations
State your expected minimum throughput requirements
Be prepared to discuss current "pains" of the production line
If executed properly, the new equipment design will be a collaboration of engineering efforts
Dramatic Returns
When all is said and done, that new automated system is sure to provide:
Worry free manufacturing
Consistent throughput
Minimal operator intervention and subsequent variability
Positive cash flow in less than a year
New possibilities and opportunities with your customer base
Midwest Engineered Systems Inc. provides automation systems for manufactures in all different industries and can help determine the ROI of your particular application. Contact us today!