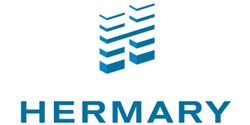 104 - 1500 Hartley Avenue
Coquitlam, BC V3K 7A1
Canada

Vision | Member Since 2014
Hermary is a leading innovator in 3D Machine Vision. Since 1990, Hermary has enabled industrial automation that improved the manufacturers' throughput and quality beyond what was humanly possible. Our commitment to R&D and engineering gives users increased control over data processing with features like customizable speed, scan zones, and scan sequencing. We offer system-ready scanners for easy integration and have the expertise to work with integration partners to quickly bring a solution best suited for any industry.
Hermary's 3D machine vision transforms the nuanced complexity of the physical world into digital data. Our machine vision adds depth to the data by capturing spatial information, enabling temporal correspondence, or creating more signal space for your solution. We are the pioneer in revolutionizing automation in industries like wood, paper & pulp, meat processing, food & beverage, mining, aerospace, and many more. Our vision scanners are built for durability, ensuring end-users have reliable performances even in the most stringent manufacturing environment.
As a leader in 3D machine vision, Hermary has the industry knowledge to help integration professionals quickly develop the right solution to increase throughput and product quality, as well as improve workplace safety. As advanced 3D machine vision increasingly becomes a critical enabling technology for improving industrial competitiveness, Hermary continues to lead in innovations for its design and engineering. We are continuously creating new applications that enable companies to see — and seize — overlooked opportunities for the future.