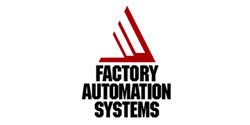 Factory Automation Systems, Inc.
5139 Southridge Pkwy
Atlanta, GA 30349
United States

Robotics | Member Since 1998
As a full-service robotic systems integrator, Factory Automation Systems provides all aspects of project engineering and management. We provide initial studies, specifications and concepts, hardware and software design, robot implementation and installation, startup and training services. With over 70 degreed engineers on staff, we have the talent to handle the multi-arm installations as well as the smaller, more critical projects. A significant portion of our company's experience is in control integration. We can round your robotic automation project with our vision system, smart sensor, PLC, operator interface, and data collection capabilities.