Robotic picking of croissants
Partner:
IMR – Irish Manufacturing Research
Problem:
Bin picking of randomly oriented parts is of great interest to manufacturers as automation of these processes can save a lot of costs and space. The market offers a large number of bin picking solutions but many of them struggle with recognizing and identifying transparent, deformable, variable, and reflective objects that may even be piled, entangled, and jumbled up.
The Irish Manufacturing Research built a bin picking cell for the picking of 3 different types of randomly oriented bread products.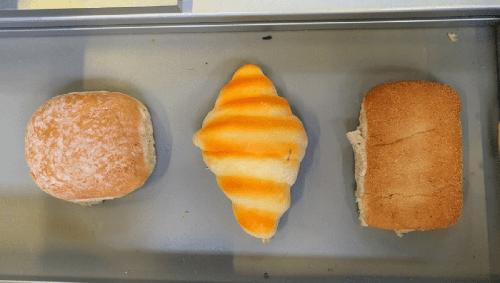 This project presented several technical challenges:
Identification and picking of objects of non-symmetrical and complex shapes
Random orientation of the objects
Picking of 3 different types of objects
Achieving optimal process speed
Solution:
Bin Picking Studio + PhoXi 3D Scanner
The solution comprises a bin picking cell with Photoneo robotic intelligence software for bin picking – the Bin Picking Studio, a PhoXi 3D Scanner, and a UR 5 robot. The supplier of Photoneo technology in the UK is Multipix Imaging.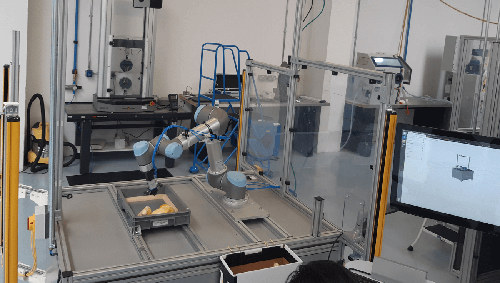 Before implementation, the following setup and configuration requirements needed to be met:
Pre-planning:
Defining a suitable end-of-arm tooling design
Mounting an EOAT gripper and testing its operation on the robot
Ensuring correct safety requirements (Collaborative mode or Industrial mode)
Having CAD models (in the STL file format) of:

The product to be picked
The EOAT gripper
The cell layout

Having the required software files of the UR5 robot for integration with the Bin Picking Studio
Having the required network cables for a physical connection between Bin Picking Studio, UR5, and PhoXi 3D Scanner
Having an HDMI cable for connection between Bin Picking Studio hardware and the monitor screen
Setup:
After all the above requirements had been met, the next implementation steps were:
Building the cell and integrating hardware
Integrating Bin Picking studio hardware and software
Planning gripper grasping, including all potential grasping orientations and picking points
Calibration of robot vision and the end-of-arm tooling
Setting parameters
Optimization of layout, path planning, and robot parameters
Repeatability testing
The system enables repeatable picking and emptying of random bins filled with 3 different bread products of complex shapes at a picking rate of 6ppm. If the products had a symmetrical shape, the processing speed would be even faster.
The system enables an easy changeover between different products.
Discussion:
This project provides IMR partners and customers insights into the requirements and capabilities of a typical bin picking solution. IMR has invested in a commercial bin picking solution that Irish manufacturers and IMR partners can avail of.
The system can be further optimized by:
Setting the robot speed to maximum
Restricting the robot's joint motions for shorter trajectories
Using smart memory and fast scanning option
Optimizing localization parameters available in the system
Using grasp invariance feature that allows multiple possible grasp points on the product