3D Stereo Vision as Part of the Rovolution
"Roboception Literally Became Part of Our Development Team"
"In the field of robotics and fully automated picking solutions, Roboception complements our portfolio with powerful sensor components. Particularly when looking at the constructive and efficient collaboration of our teams, we look forward to a further successful cooperation." says Markus Winkler, Head of Advanced Technology at TGW Logistics Group GmbH.
When TGW Group was tasked to develop a system for automated item picking for the distribution business a few years ago, they turned to Roboception: The corner stone for what has since evolved into a long-standing partnership was set. Key challenges for what would later become the intelligent pick-center Rovolution, were the required speed of such a system, and also the huge quantity and diversity of the products to be detected and handled.
The wide variety of different product shapes and packaging types made finding the right vision solution a key success factor. From the very beginning of the project, the team worked with two rc_visard 160 in a stationary set-up as their vision component. And in addition to the sensors, Roboception delivered an individual software solution, specifically tailored to the perceptions tasks at hand.
"The rc_visard 160 is just the right product for us, in terms of performance and also regarding the cost/benefit ratio. We focused on the detection capabilities and data quality of the sensor as well as the support and service during the development phase – and all of this we got from Roboception."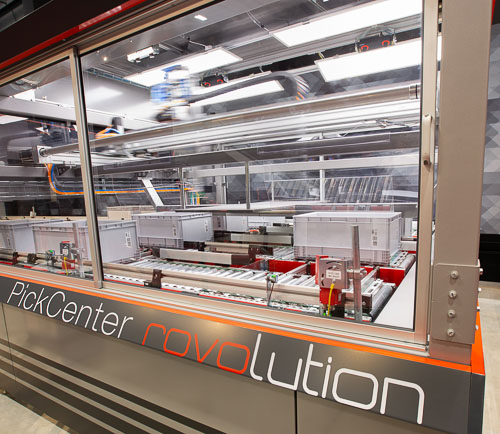 Even in the early stages, when the rc_visard was still in a 'pre-series' status and the software still under development, the TGW team could rely on the quality of the products, which has always been highly satisfactory. Furthermore, the TGW team particularly appreciated that at all times, all components were thoroughly tested and clearly documented, which significantly simplified and propelled the development process.
"The Roboception team has been easy to work with and is very responsive – they literally became part of our development team. They have gained such a deep understanding of our application that they were able to proactively provide us with highly constructive input and suggestions for improvement – even without our request."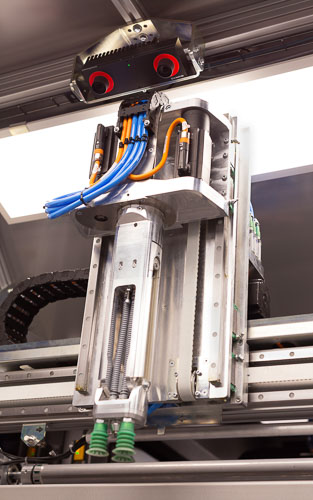 ABOUT TGW GROUP:
As a foundation company headquartered in Austria, TGW is an internationally leading provider of intralogistics solutions. As a systems integrator, we take over planning, production, implementation and maintenance of distribution centres – including everything from mechatronics to robotics to the control system and software. Today, over 4,400 employees in Europe, Asia and North America excel with expertise and outstanding solution-oriented dedication.
ABOUT ROBOCEPTION:
Roboception is a pioneer in the field of 3D sensor technology with innovative hardware and software products: The Munich based company provides key elements for the forward looking and flexible automation solutions of Industry 4.0 by giving 'eyes and brains' to robots.