Who is Marty the Robot and Why Do We Need Retail Service Robots?
Grocery stores can be an overcrowded confusing mess, but a new service robot may help make them safer and cleaner. Next time shoppers visit their local Giant, Martin's, or Stop & Shop, they may run into a googly-eyed robot named Marty. Throughout 2019, Marty the Robot has been joining 500 supermarkets.
Who is Marty the Robot?
Marty the Robot is a service robot the same height as the tallest grocery store shelf. He's a gray, slender, slow-moving device with big, cartoonish eyes. Marty will roam the supermarket and will alert humans to problems that need their attention.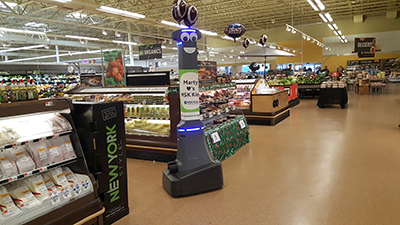 Marty the Robot dons a sign that reads "Marty is an autonomous robot that uses image capturing technology to report spills, debris, and other potential hazards to store employees to improve your shopping experience." Marty uses embedded cameras to navigate and avoid customers and store displays. He's powered by rechargeable lithium batteries.
What Can Marty the Robot Do?
When Marty notices spills or other trip hazards, he can alert customers verbally by saying "Caution. Hazard detected." He can then contact employees through the store's public announcement system. Marty the Robot can also scan shelves to check products and detect incorrect pricing or missing labels.
Shoppers don't need to worry that personal information about them is being collected. Any images or videos Marty captures is stored for a short period of time and is then destroyed. His focus is on identifying spills and price mismatches, not monitoring security.
What Are Marty's Benefits?
Adding Marty the Robot may result in significant cost savings. Employees spend hours per day checking for hazards and checking inventory. The data collected by the service robot can also help stores with operations, inventory management, and scheduling timely delivery of products. Many customers are intrigued by Marty the Robot, taking selfies with him.
The impact on workers appears to be small since Marty primarily alerts workers to problems. As the technology grows and additional functions are added like stocking shelves, workers may be freed up to perform other tasks, including deploying and maintaining the service robots. Giant's goal is to free up associates to spend more time serving customers and reduce the risk caused by spilled foods.
Service Robots
This content is part of the Service Robots curated collection. To learn more about Service Robots,
click here
.