The Top Automation Trends of 2014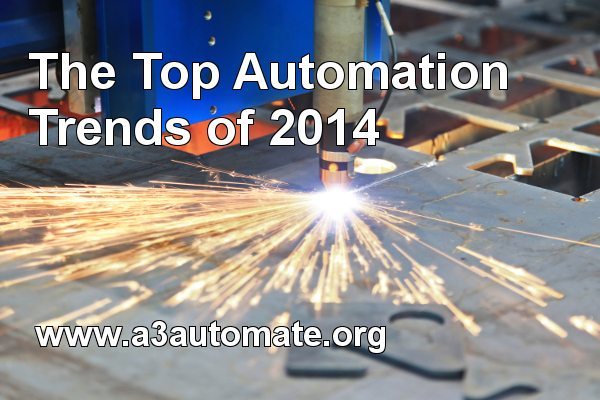 Automation news from 2014 confirms trends and hints at the future.
Give 'Em What They Want
The consumer's voice has been heard and the needs understood. Companies have a need to transport systems and manufacturers are making light and compact equipment that is easily transportable. This has become a requirement and has led to the wider use of automation and lightweight robots.
Little Guys are Big
Small robots are getting put to use in pick-and-place applications, small-parts assembly, machine tending, and material handling. Logistics is another area where the small and flexible robot is popular as mentioned in this article Robotics in 2014: Market Diversity, Cobots, and Global Investment.
"Robots are getting smaller, they're able to handle more complex and intricate tasks," said Alex Shikany, Director of Market Analysis at Robotic Industries Association in Ann Arbor, Michigan. "End users in the semiconductor and the electronics market are starting to tool their factories with automation because the robots are more capable."
The Inside Counts
Turning and stopping quickly and in some cases dealing with the challenges of vibration are some of the challenges manufacturers face when building solutions. New software is driving future automated systems in industries like packaging and future equipment will be based on "mathematical modeling" as mentioned in this article on packaging machinery automation from Automation World.
The use of "smart sensing" is making automation more flexible and able to perform varied functions compared with past equipment that was "stiff" and able to focus only on one repeatable task. Advances in software play a role in bringing down costs so equipment is more affordable for small to medium sized businesses.
Manufacturer FANUC is using a patented software system that learns the path a robot travels or its work environment and lets robots touch, see, and feel. FANUC was named one of Forbes' most innovative companies in 2013. These types of robots were used in spot welding and now are being developed for pick and place use.
He Ain't Heavy, He's My Robot
More workers in places as diverse as factories and health science facilities will share space and complete tasks within an arm's length of robots. Human-robot collaboration using cage-free machinery is a reality that's here to stay.
In a March 2014 event in Michigan, manufacturer ABB displayed a dual-arm robot that's less than a meter across the shoulders and has a human-like reach. The description mentioned in Major Robot OEM's Fast Tracking Cobots describes a motion and force sensitive software platform that ensures a safe operating field.
Automation's many applications affect an array of large and small companies. Look for more exciting news in the year ahead.