How to Create Your 2015 Automation Plan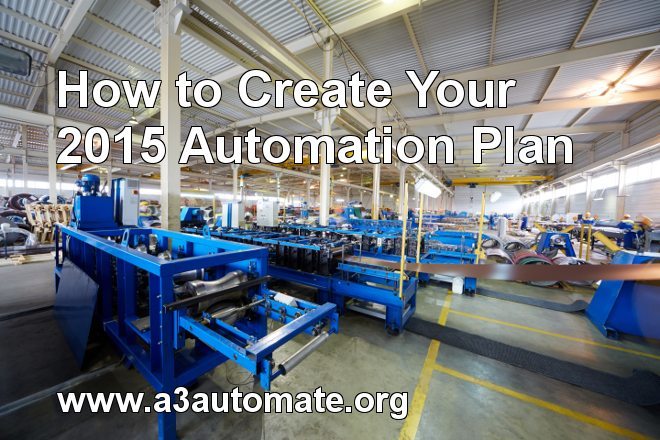 Overview
Advances in automation make technology more affordable and accessible to businesses of all sizes and in diverse industries. Large automakers and bottling companies aren't the only ones that need to invest. Developing an automation plan that achieves results requires careful study of all the steps from production to delivery.
Companies that have already made a transition may need to have a plan where they can fine tune performance of equipment, upgrade, or even work with vendors in areas like logistics to deliver products as quickly as possible. Make this the year to create your automation plan.
Look at Production and People Needs
Many of the steps that create the production cycle can be automated like the planning stages, manufacturing, inspection, and delivery. A plan should develop based on company goals.
Know the weakest links in the cycle and see how automation can make the cycle move faster, reduce costs, and improve quality.
Automation isn't just for the mass production of parts that have to be cut to the same specs.
Your automation plan can include equipment that customizes orders since technology is being made to handle products that vary in size and shape. Click here to read how milling robots can create a product as customized as orthotics which sometimes is "a lot size of one" according to the write up.
You may have goals related to the well-being of employees so that morale is kept high. Are people struggling to get work done? If so, automating some procedures and placing those workers in charge of the equipment could empower them to work at a higher level.
Reducing injuries can be another reason to automate or upgrade using equipment that reduces the amount of twisting and bending in the employees experience.
Study the Solutions
Look for manufacturers that can provide some hands-on experience to study your new automated system and compare against existing equipment. Manufacturers are giving customers and potential customers the chance to be involved and learn what's available.
In Chicago, the American headquarters for Omron is a university style laboratory where customers can get closer to the equipment and platforms that include robotics, electro-mechanical motion control, advanced sensing and safety.
Selecting flexible automation systems is a trend that companies are using to boost their return on investment. Lightweight robots can be moved from one workstation to another and even the software that runs the equipment can adapt to different situations.
In the article Neocortex Learns from Experience David Peters, the chief executive of Universal Robotics is quoted as saying, "Our software functions as sensor-based interactive intelligence, which is independent of specific machines. This allows us to integrate with a broad base of equipment."
Systems have a wide variety of capabilities and can be implemented to work on everything from gear shafts to delicate components requiring precision like wristwatches.
People have to be kept safe and this is a key component of any automation plan since machines and people are now working more closely together than ever. Safety issues usually relate to how quickly a machine can stop when a person moves into its operating space, but manufacturer ABB is developing another take on safety.
Robots may be thought of beings made of metal but ABB's creation, YuMi, has "soft, padded dual arms, combined with innovative force-sensing technology to ensure the safety of YuMi's human co-workers." This write up from ABB unveils the future of human-robot collaboration and describes how safety is built into the functionality of the robot so that it can work cage-free.
Evaluate Results
A plan that achieves its goals may be worth following up on and adjusting for the new year as well. During the last quarter of 2014, consider how well the staff is working with technology, if production time is less and if the quality achieved has improved.
Keep what works, fine tune for needed adjustments, and if the plan has gone well it may be possible to expand operations.